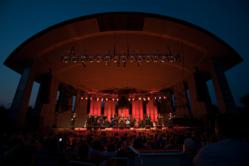 Grand Rapids, MI (PRWEB) March 06, 2013
Frederik Meijer Gardens & Sculpture Park proudly announces four acts of the 2013 Outdoor Summer Concert Series. The full lineup will be announced in mid-April. Featuring country, indie rock, rock 'n' roll and bluegrass, the series will include:
Montgomery Gentry
July 5
Montgomery Gentry is an American country music duo composed of vocalists Eddie Montgomery and Troy Gentry, both natives of Kentucky. The duo is known for its Southern rock influences, and has collaborated with Charlie Daniels, Toby Keith, Five for Fighting and members of The Allman Brothers Band. The duo produced more than twenty chart singles including the number one hits "If You Ever Stop Loving Me," "Something to Be Proud Of," "Lucky Man" and "Roll with Me."
David Byrne & St. Vincent
July 7
David Byrne was a founding member and principal songwriter of the band, Talking Heads, best known for their Top 10 hit, "Burning Down the House." Since then, Byrne has released his own solo recordings and worked with various media including film, photography, opera and non-fiction. He has received Grammy, Oscar, and Golden Globe awards and been inducted into the Rock and Roll Hall of Fame. Touring with Annie Erin Clark, better known as St. Vincent, she brings her American singer-songwriter skills and multi-instrumental talent to the duo. Together, St. Vincent and David Byrne released a collaborative album titled, Love This Giant.
Steve Miller Band
July 18
Producing number one hits like "The Joker," "Fly Like an Eagle" and "Rock'n Me," the Steve Miller Band is considered a classic rock legend. Since forming in California in 1968, the band has released more than 18 studio albums, three live albums, seven compilation albums and numerous singles. Their resume includes performing, collaborating or producing with fellow music idols Chuck Berry, Paul McCartney, The Grateful Dead, Flyn Johns and many others over their prestigious music career.
Steve Martin and The Steep Canyon Rangers featuring Edie Brickell
July 29
Steve Martin is currently in the fifth decade of a uniquely varied and accomplished career in which he's shined as a comedian, actor, author and playwright and as a Grammy-winning, boundary-pushing bluegrass banjoist and composer. His fellow Texas native Edie Brickell initially burst onto the national scene in the late 1980s fronting the New Bohemians. Together, their rootsy compositions are a combination of Martin's inventive five-string banjo work with Brickell's distinctive vocals and vivid, detail-rich lyrics.
Members of Meijer Gardens will be able to purchase tickets during an exclusive members-only presale, April 27 through May 10. During the pre-sale, members also receive a $5 discount per ticket. To join or renew before April 27, visit MeijerGardens.org/Membership.
Tickets will go on sale to the general public on May 11. More information on prices and purchasing locations will be available following the release of the full lineup in mid-April.
The 2013 Outdoor Summer Concert Series is made possible in part by Harvey Lexus of Grand Rapids and Meijer, Inc. The media sponsor is Classic Rock 97 LAV.
# # #
High-resolution images available for download here: https://www.dropbox.com/sh/17wzv16snql7iau/-rE44_SSFf?m
About Meijer Gardens' Amphitheater
The 1900-seat amphitheater is general admission. Concertgoers are welcome to bring a blanket or low-rise chair to sit on. Low-rise chairs are defined as 12" maximum from ground to front of seat bottom and 31" maximum to top of chair back in highest position. These rules are strictly enforced. No other chairs will be permitted in the venue. A limited number of standard-height chairs will be available to rent for $5 (located in designated area-may not be removed) on a first-come, first-served basis. All concerts are rain or shine-weather delays possible. A selection of sandwiches, snacks, water, soft drinks and alcoholic beverages are available at the concessions counter. All beverages purchased here must be consumed inside the amphitheater gates. Concertgoers are also welcome to bring their own food, bottled water and non-alcoholic beverages. No glass or refillable containers are allowed. All beverages must be in their original sealed containers; any liquids in unsealed containers must be discarded at the gate before entering.
About Frederik Meijer Gardens & Sculpture Park
One of the world's most significant botanic and sculpture experiences, Frederik Meijer Gardens & Sculpture Park serves more than a 550,000 visitors annually. Meijer Gardens was recently ranked in the top 100 most-visited art museums worldwide by "Art Newspaper," the leading publication in global art news. The 132-acre grounds feature Michigan's largest tropical conservatory; one of the largest children's gardens in the country; arid and Victorian gardens with bronze sculptures by Degas and Rodin; a carnivorous plant house; outdoor gardens; and a 1900-seat outdoor amphitheater, featuring an eclectic mix of world-renowned musicians every summer. The internationally acclaimed Sculpture Park features a permanent collection including works by Rodin, Oldenburg, Moore, Bourgeois and Plensa, among others. Indoor galleries host changing sculpture exhibitions with recent exhibitions by Picasso, Degas, di Suvero, Borofsky, Calder and Dine.