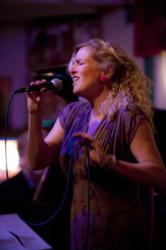 [Metcalf is an] excellent cabaret/jazz singer who is foremost a sensitive interpreter of lyrics. - The Boston Globe
Boston, MA (PRWEB) March 07, 2013
From the mega hits—Eli's Coming and Wedding Bell Blues—to the hidden gems like Billy's Blues, vocalist Shepley Metcalf will reprise The Songs of Laura Nyro at New York's Metropolitan Room for two nights in April. The shows will coincide with the release of Metcalf's album, The Songs of Laura Nyro: Live at the Metropolitan Room, recorded at her last New York appearance.
Metcalf, an "excellent cabaret/jazz singer who is foremost a sensitive interpreter of lyrics" (The Boston Globe), specializes in little-known tunes from the '20s to the '40s. But after decades of admiring Nyro's poetic imagery and sudden rhythm shifts, she decided to dive in and explore this eclectic songbook. Nyro (1947-1997) penned numerous songs that became huge hits (Stoney End, And When I Die) for other artists; her own albums earned her a devoted following and critical acclaim. The NYC native was inducted into the Rock and Roll Hall of Fame in April 2012.
Metcalf debuted the show in Boston last May and brought it to the Metropolitan Room in November, where she was joined by New York's Janice Friedman on piano, Jim Whitney on bass, and Willard Dyson on drums. This exceptional trio will join her again for the April shows.
The Songs of Laura Nyro is Metcalf's second project to highlight a New York songwriter. Her show of the last songbook by lyricist Fran Landesman (Spring Can Really Hang You Up the Most) was reviewed in The New York Times and ran in Chicago, Boston, Provincetown, San Francisco, and for five evenings at the Metropolitan Room. The companion album, Something Irresistible: Songs of Fran Landesman + Simon Wallace, earned a four-star/excellent review from Jazzwise, the UK's top selling jazz magazine.
Show Info
Shepley Metcalf sings The Songs of Laura Nyro
Janice Friedman/piano. Jim Whitney/bass. Willard Dyson/drums.
Friday, April 26 at 9:30 pm & Saturday, April 27 at 7:00 pm
Metropolitan Room, 34 West 22nd Street, New York, NY
$20 cover + 2-drink minimum
Tickets at the Metropolitan Room or 212-206-0440
Excerpts of show audio on YouTube: Shepley Metcalf Sings Laura Nyro (LIVE)
Album Info
Release date: April 26, 2013
Shepley Metcalf
The Songs of Laura Nyro: Live at the Metropolitan Room
Shepley Metcalf/vocals. Janice Friedman/piano. Jim Whitney/bass. Willard Dyson/drums.
Recorded live by Jean-Pierre Perreaux on November 10, 2012 at the Metropolitan Room, New York City. Mastered by Doug Hammer at Dreamworld Productions.
Tracks:
1. Sweet Blindness (3:10)
2. Wedding Bell Blues (5:17)
3. Luckie (3:32)
4. Billy's Blues (3:27)
5. Stoney End (3:15)
6. And When I Die (4:16)
7. Save The Country (3:26)
8. Eli's Coming (4:05)
Shepley Metcalf, a Boston-based cabaret/jazz singer, performs regularly throughout New England and New York. She is currently at work on an album of rarely-covered songs written between the '20s and '40s.