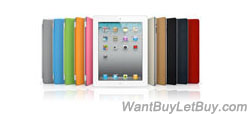 (PRWEB) March 06, 2013
Today, Wantbuyletbuy.com, a well-known online store of cell phone accessories, excitedly introduce its new collection, iPhone 5 Bumper Cases, and launches a site-wide cell phone accessories promotion from today to Mar. 20, 2013 to show appreciation to all clients.
There are 78 items totally in the new collection, and they are from various manufacturers and makers. All these cases are specially designed to protect iPhone 5 from drops, dust and scratches. Each bumper case for iPhone 5 is available in different colors, like green, white, purple, brown, and so on. Their highly transparence can preserve the high resolution and keep the pictures and videos vivid.
"Lack of protection leaves your precious new phone susceptible to nicks, scratches, water, and worst of all, drops, "says, Ryan Ran, Senior Marketing Manager of the company. "The iPhone 5 is the most recent update of Apple's Smartphone, and many iPhone 5 owners hope that their loved phones can get protection. Now, our new collection from Wantbuyletbuy.com gives them one more choice.
In addition, Wantbuyletbuy.com is offering thousands of cell phone accessories, i.e. cheap iPad Mini cases, Galaxy Note 2 cases, Samsung Galaxy S3 cases, and, etc. at deeply discounted prices. They list all the discounted prices on their website directly, so customers can compare prices easily prior to shopping.
With a vast knowledge of cell phone products and consumer needs, Wantbuyletbuy.com has established the highest degree of customer satisfaction by offering the top quality and fast delivery. They have developed a wide range line of cell phone accessories, and are willing to offer the excellent and functional cell phone cases to users.
About Wantbuyletbuy.com
Base in China, Wantbuyletbuy.com is an online shopping mall specialized in business of cell phone accessories. Their products are selected from top manufacturers and are sold at same price policy to everyone. Moreover, the company is not limited to China only; it operates in 230 countries worldwide.
For more accessories for your favorite iOS devices, please visit: http://www.Wantbuyletbuy.com/