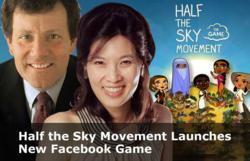 Boston, MA (PRWEB) March 06, 2013
As part of a multimedia effort based on Nicholas Kristof and Sheryl WuDunn's best-selling book 'Half the Sky,' the Half the Sky Movement launched a Facebook game today to turn millions of Facebook players' gameplay into real-world activism and micro-donations.
Both Sheryl WuDunn and Nicholas Kristof are available for public speaking engagements, and often address the public on such topics as women's and human rights (particularly in the developing world). They are represented for speaking engagements through American Program Bureau.
The game follows a young Indian woman named Radhika as she completes a series of quests to create opportunities for the many women she encounters across her travels. Each quest directly relates to real-world challenges women and girls face around the globe and corresponds with the work of seven NGO organizations: The Fistula Foundation, GEMS, Heifer International, ONE, Room to Read, United Nations Foundation, and World Vision.
The game is produced in partnership with Games for Change, a nonprofit that catalyzes social impact through digital games. As gamers complete specific quests inside the Half the Sky game, $500,000 donated by sponsors will be unlocked and distributed to charitable causes.
Kristof and WuDunn are Pulitzer Prize-winning journalists and human rights advocates. Their co-authored book 'Half the Sky' inspired a PBS documentary series by the same name.
About American Program Bureau (APB):
In business since 1965, APB represents a roster of high-profile speakers from entertainers and politicians to thought leaders and academics. Learn more about APB at apbspeakers.com or follow us on Twitter @apbspeakers.