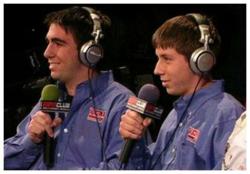 In an era where the negative influence television, movies and video games has on today's youth is highly debated, the Scott and Ryan Story is a wholesome, peer-to-peer message that will indeed inspire the entire family. — Jaime Rivera, movie creator
Orlando, FL (PRWEB) March 07, 2013
"The Scott and Ryan Story" is also a story about second chances. Scott and Ryan, both just 15 years old accomplished an amazing feat by co-hosting a prime-time weekly sports radio talk show before a studio audience hosting sports celebrities. The show aired live throughout the U.S. and Canada from the ESPN Club at Walt Disney World in Orlando, Florida.
ABOUT US:
The YSN Sports Broadcasting Academy is a prestigious, 13-week national training program for high school students and recent high school graduates. Classes are taught in a live and interactive web-based teaching platform.
MISSION:
Through an online curriculum and hands-on experience, our mission is "To provide unparalleled sportscasting instruction, life, communication and business skills benefitting students throughout their lives, whether they choose a career in sportscasting or elsewhere."
FACULTY:
Academy faculty members are seasoned sports broadcasting professionals with real-world experience. Instructors are veteran NBA radio play-by-play broadcasters Matt Pinto of the Oklahoma City Thunder, Mark Boyle of the Indiana Pacers, former ESPN SportsCenter/Fox Sports broadcaster, Larry Burnett and Rich Burk of ROOT Sports.
PURPOSE:
The YSN Sports Broadcasting Academy experience is an extra-curricular activity. All candidates submitting applications understand that acceptance into the Academy is offered purely for personal development and enrichment purposes by those pursuing a passion in sportscasting as a career. This educational experience is not intended to offer high school or college credit nor is it intended to prepare students for employment immediately upon completion of the Academy. Future employment opportunities will require advanced education, internships and/or volunteer experience.
FORMAT:
Conducted two hours per week, students learn the general knowledge and fundamentals of sports television and radio broadcasting. Each session is a live interactive online classroom where the students see their instructor and see each other. Allowing fro a quality educational experience, the faculty/student ratio is only 10:1. Students who miss the live class have access of an archived online replay at their convenience…as often as they want.