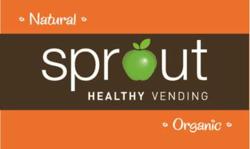 Healthy vending options taste great and can still be a treat. The beauty is that eating well doesn't have to be a bummer or boring.
Irvine, CA (PRWEB) March 07, 2013
When looking for operators to partner with, Sprout Healthy Vending, above all else, seeks candidates with a dedication to health and a genuine value for nutrition. It takes more than entrepreneurism, there must be a strong urge to make a difference and improve wellness. Sprout's newest vending operator, Kim Kraus, has a passion for healthy living and saw Sprout as an opportunity to be involved in a business that supported her lifestyle.
A Columbia, Missouri resident, Kraus believes healthy vending will be widely embraced and appreciated by her community.
"It's about adding alternatives and choices; good choices should be available on-the go or away from home. Business, schools, hospitals and municipalities can't continue to talk about addressing the obesity and diabetes health crises and the importance of good nutrition and then offer only unhealthy choices in the vending machine down the hall," says Kraus. "When locations offer only 'junk' in their
vending machines, it seems like it's okay to just talk, not do. It's time to get real and make healthy choices an option to employees," explains Kraus.
Kim's devotion to wellness is rooted in her personal life. As a vegetarian for over 20 years and with a past as a fitness instructor, health is a priority for Kim and her family. "I have parents that have had cancer diagnoses and diabetes runs in our family. My life has been centered around nutrition and fitness for many, many years. I also now have children that are learning the importance of good nutrition for overall health. There are so many reasons to learn about making good choices. I want to bring that awareness and offer support to others," Kim says.
Sprout Healthy Vending offers nationally recognized snack and beverage choices. "Healthy vending options taste great and can still be a treat. The beauty is that eating well doesn't have to be a bummer or boring," says Kraus.
"Operators like Kim Kraus are leading the way in terms of a healthy revolution. She has all the potential to encourage her community to get excited about healthy food choices, and her enthusiasm will surely be contagious," voices Sprout Healthy Vending Co-Founder, Christopher Wyland.
About Sprout Healthy Vending:
Sprout Healthy Vending provides state-of-the-art vending technology, thousands of healthy and organic products and turnkey customer solutions for regional operators. Currently, Sprout Healthy Vending has over 65 operators in over 40 markets in the U.S. with 1,000 individual locations projected by the end of 2012. To learn more about the company, locations and products please visit http://www.sprouthealthyvending.com or call (800) 450-7648.