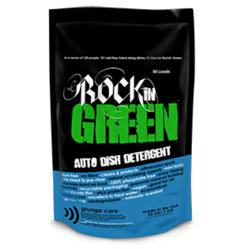 San Antonio, TX (PRWEB) March 07, 2013
Rockin' Green announced today the release of their latest eco-friendly product to the company lineup - Auto Dish - at Expo West, the nation's largest natural food and products show. After listening to many customer requests for a detergent to use in their automatic dishwasher, Auto Dish was developed with the same focus on green living and safety as their award wining laundry detergents.
"We are committed to giving our customers more options in products for living a green lifestyle and ensuring the safety of their family from the harsh chemicals normally found in such products. Auto Dish is yet another way we can help families." said Kim Webb, CEO and Founder of Rockin' Green. All their products are available at retail boutiques around the country and online at http://www.RockinGreenSoap.com . Auto Dish works to tackle everything from baked on leftovers to hard water spots, all while being gentle to the environment.
The Rockin' Green family of products are specifically made without harmful ingredients such as phosphates, optical brighteners, dyes, SLS, or Paraben. As a gluten and vegan friendly line they are an excellent choice for those with allergies or sensitivities. All products are biodegradable and come in recyclable packaging.
About Rockin' Green:
Founded in 2008, Rockin' Green has quickly grown to be a favorite among moms looking for an eco-friendly and economical option in green cleaning. The product lineup includes the 2012 About.com Reader's Choice Winner for favorite Laundry Detergent, as well as complimentary products made specifically for cloth diapering, pets, and air deodorizers. It is available at over 1000 retailers in the US and through distributors globally including, Australia, Canada, Malaysia, Dubai, and South Africa.
Contact:
Barbara Hooks
VP of Public Relations and Marketing
barbara(at)rockingreensoap(dot)com
855-RNG-SOAP x 704
http://www.RockinGreenSoap.com