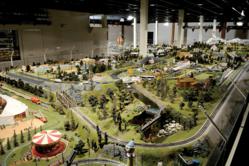 Strasburg, PA (PRWEB) March 06, 2013
The Choo Choo Barn –Traintown, U.S.A.® - located in Strasburg, PA, opens for the 2013 season Saturday, March 9, 2013. Featuring more than 150 animations and 22 operating trains, this 1,700 square foot handcrafted, work-of-art is packed with small-scale local landmarks and detailed scenes from Lancaster County. Look for the following scenes and animations during your next visit to the Choo Choo Barn:

Amish barn-raising
Three-ring circus and parade
Display transformation into nighttime (every 10 minutes)
Dutch Wonderland, enhanced with new lighting this year
A house fire and the fire crew that puts it out
Watch a sneak peak
It's really all in the details. Take a very close look at the model train display and see if you can find:

A Roll-back tow truck animation – new this year
Driver getting a speeding ticket
Child in a tire swing
A dog leaving the tree house
Current gas price (on an LED sign)
The Turning House
The Choo Choo Barn display is open daily from 10 a.m. – 5:00 p.m., with last admission at 4:30 p.m., from March 9 - December 31, 2013. Admission price is $7 for adults and $4 for children ages 3-11. For more information and to learn about group rates, please call (717) 687-7911 or visit http://www.choochoobarn.com. For more details and promotions, check out Choo Choo Barn on Facebook: http://www.facebook.com/choochoobarn.