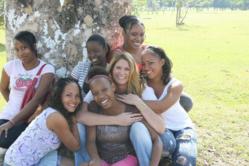 The deal is, don't be selfish with money! Instead of going to Starbucks for 2 weeks, help put a roof over these orphans' heads.
San Antonio, Texas (PRWEB) March 07, 2013
As a long time partner of the King's Ransom Foundation, Dani Johnson has used her various public platforms as a radio host, best-selling author and speaker to advocate support for the Foundation's work with Belizean orphans. And recently, when an anonymous donor offered a $100k dollar-for-dollar match to help finish the King's Children's Home in Belize, Dani took up the cause with her iconic passion and conviction:
"The quality of life in Belize is no where near the life we have here in the US. Education is a given here. It's not a given in Belize. Education determines whether or not these kids stay in poverty, or get out of the bad cycle of selling drugs or selling their bodies just to eat. And that's what King's Ransom does for these kids in Belize. They not only provide a home, they provide critical education!"
Leonie Gillham, founder of The King's Children's Home in Belize, has, for 25 years, brought children in from the street and has personally raised and educated over 650 kids, saving them from depredations of poverty and abandonment. In the last five months Leonie has seen the orphanage expanded from 42 children to 90, with those 90 living with only two bathrooms (one for girls, one for boys) and often sharing beds. The King's Children's Home has been working to raise money and build a sorely needed new orphanage. This new facility will allow for more than 100 children to live comfortably, with additional room to help other children in need.
Individual's interested in supporting the cause can visit the King's Ransom Foundation Belize Match and make a tax deductible donation. Donors can rest assured that 100% of donations are funneled to the King's Children's Home.
About Dani Johnson and King's Ransom Foundation:
Dani Johnson is a best-selling author, internationally sought after speaker and syndicated radio show host. She is also an active philanthropist, donating her time and resources to causes like the King's Ransom Foundation and it's various charitable partners. King's Ransom Foundation is a non-profit 501(c)(3) charity that currently supports many individuals and ministries around the world who provide food, shelter, water, medical aid, spiritual care, education and life skills. The Foundation and its' volunteer board members share common values for responsible stewardship, financial accountability, openness and disclosure.
###