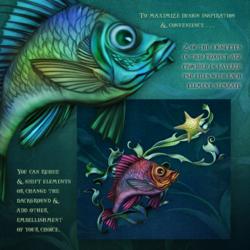 Dana, I have just found your site and must say I am really honoured to be part of your community. Your artwork is absolutely stunning and I have not seen anything so beautiful. Thank you for sharing your talent.
Angie.
Tacoma WA (PRWEB) March 05, 2013
Jaguarwoman's "Sea Escape" is a dreamy sea-themed design resource created in the "modular" format, with a wide range of options for customizing the hue palette and layout of elements.
"Sea Escape" includes digitally painted seashells and waterweeds and sea ornaments in individual png files or psd laers. There are 2 layered PSD versions of seashell and sea-life vignettes, with each element on its own layer. Each element can be endlessly re-hued and the elements can be recombined to maximize design choices. Using the "modular" approach, the product includes unembellished & embellished design elements, as well as merged vignettes. This provides the opportunity to use the completed vignettes or create new ones from all the elements provided. All design elements are in png file format, on a transparent background, in large pixel dimensions, 300 dpi. All backgrounds are 2400 x 2400 pixels, jpg format, 300 dpi resolution so that they can be easily increased or decreased in size with little loss of clarity. This product may be used for commercial and personal projects but may not be resold as is (even with hue variations) or used to create another merchant design resource.
About Jaguarwoman Designs, (http://www.jaguarwoman.com)
The "Jaguarwoman" in Jaguarwoman Designs is Dana Sitarzewski, a self-taught digital artist of 66 who found artistic ambition late in life, in the earliest days of the digital graphics revolution. Jaguarwoman Designs began in 1998 as a one-woman retail graphics store with a focus on high impact 2D design resources. It has since developed an international following with customers who need evocative high quality/high resolution images for both personal and commercial purposes. Starting with Jaguarwoman as the sole artist, it has expanded into a large graphics market which includes skilled artist-designers from all over the globe. In addition to a retail inventory of design resources many themes & formats, Jaguarwoman does commissioned digitally-painted art private individuals and commercial purposes. Among Jaguarwoman's areas of specialization are original floral designs and pet portraiture, as well as fantasy compositions. Jaguarwoman provides free tutorials for download and WIP instruction in digital painting in the Customer Support Forum (http://www.jaguarwoman.com/forum/ ). Jaguarwoman's business motto is: "We are dedicated to helping YOU stand out in the digital jungle".
Digitally Painted Floral & Animal Art, Abstract Backgrounds & Landscapes, Ornamental Alphabets, Decorative Borders & Ornaments, 3d Fantasy Characters, Digital Scrapbooking Kits & Design Resources For Personal Use & Commercial Use, 3d Texture Resources, Printables, Photoshop Styles & Brushes, Home Decor, Invitations, Greeting Cards, Custom Design & Illustration, Webdesign & Maintenance, Computer System Design & Upgrades . . . & much much more.