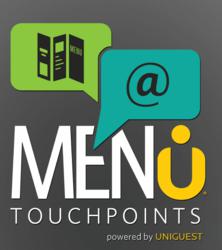 "To implement my menu I had to deal with six different providers" says Brett Scott a Richmond VA restaurant owner..
Nashville TN (PRWEB) March 07, 2013
Changing a few items on the restaurant menu sounds like an easy task, but to the modern restaurant owner it may involve updating the menu in as many as eight different sources to ensure that it is done properly across the board.
Uniguest is announcing a new service called Menu Touchpoints developed to bring convenience and efficiency to the restaurant industry in the delivery of the menu.
"To implement my menu I had to deal with six different providers," says Brett Scott a Richmond VA. restaurant owner. Print menus, digital menus, website menus, online ordering menus and Point of Sale menu implementation are just a few of the different sources required to implement a menu for today's restaurant owner. In an industry where time and money is at a premium, a single source provider to implement all of the menu placements represents a true benefit to industry to save money and time.
Menu Touchpoints is designed to deliver the following services for the business owner. Print and digital menus to include menu boards, online services such as menu listings on social media, websites and online ordering, menu engineering, food costing and nutritional content on menus. As a single source provider, cost efficiencies can be gained by utilizing one organization handling the creative design and implementation of the menu across multiple venues.
To contact the Menu Touchpoints team, please call 877-216-2004 or visit the website at http://www.menutouchpoints.com for more information.
Uniguest is the global market leader in information touchpoints designed to enrich guest experiences within the hospitality arena. We exist to enhance the hospitality providers' capacity to exceed and anticipate the ever-evolving demands of today's technology-driven consumer.