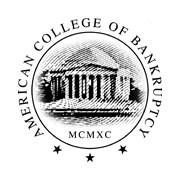 Washington, DC (PRWEB) March 05, 2013
The American College of Bankruptcy announced today that the following insolvency professionals will be inducted as Fellows of the College on March 15, 2013 in Washington, D.C.:
David W. Allard
Allard & Fish, P.C.
Detroit, MI
Isabel C. Balboa
U.S. Department of Justice
Cherry Hill, NJ
Paul Basta
Kirkland & Ellis LLP
New York, NY
Hon. Thomas B. Bennett
U.S. Bankruptcy Court
Birmingham, AL
Steven N. Berger
Engelman Berger, P.C.
Phoenix, AZ
Phillip Bohl
Gray, Plant, Mooty, Mooty & Bennett, P.A.
Minneapolis, MN
Prof. Jean Braucher
University of Arizona
Tucson, AZ
Kenneth L. Cannon II
Durham, Jones & Pinegar P.C.
Salt Lake City, UT
Scott K. Charles
Wachtell, Lipton, Rosen & Katz
New York, NY
E. Franklin Childress, Jr.
Baker, Donelson, Bearman, Caldwell & Berkowitz, PC
Memphis, TN
H. David Cox
Cox Law Group, PLLC
Lynchburg, VA
Hon. Dennis R. Dow
U.S. Bankruptcy Court
Kansas City, MO
Richard Favier
United Kingdom Pension Protection Fund
Surrey, UK
Jay S. Geller
Law Office of Jay S. Geller
Portland, ME
Toby L. Gerber
Fulbright & Jaworski, L.L.P.
Dallas, TX
Steven Golick
Osler, Hoskin & Harcourt
Toronto, ON
Prof. Melissa B. Jacoby
University of North Carolina School of Law
Chapel Hill, NC
Craig R. Jalbert
Verdolino & Lowey, P.C.
Foxboro, MA
Soneet R. Kapila
Kapila & Company
Fort Lauderdale, FL
Bruce A. Lanser
Lanser Law Office
Waukesha, WI
Robert Lapowsky
Stevens & Lee P.C.
Philadelphia, PA
Vincent E. Lazar
Jenner & Block LLP
Chicago, IL
Peter Maurice Lively
Law Offices of Peter M. Lively
Culver City, CA
Mark M. Maloney
King & Spalding LLP
Atlanta, GA
Richard C. Maxwell
Woods Rogers PLC
Roanoke, VA
Luis Manuel C. Mejan
Haynes and Boone LLP
Mexico D.F., Mexico
Michael L. Meyer
Ravich, Meyer, Kirkman, McGrath, Nauman & Tansey, P.A.
Minneapolis, MN
Hon. James M. Peck
U.S. Bankruptcy Court
New York, NY
Jack R. Pigman
Porter Wright Morris & Arthur LLP
Columbus, OH
John J. Rapisardi
Cadwalader, Wickersham & Taft LLP
New York, NY
Stephan M. Ray
Stutman, Treister & Glatt P.C.
Los Angeles, CA
David L. Resnick
Third Avenue Management, LLC
New York, NY
Stephen W. Rosenblatt
Butler, Snow, O'Mara, Stevens & Cannada, PLLC
Ridgeland, MS
Richard Seltzer
Cohen, Weiss and Simon LLP
New York, NY
Hon. Phillip J. Shefferly
U.S. Bankruptcy Court
Detroit, MI
Mark Shinderman
Milbank, Tweed, Hadley & McCloy
Los Angeles, CA
Laurie Selber Silverstein
Potter Anderson & Corroon LLP
Wilmington, DE
Deborah Lee Thorne
Barnes & Thornburg, LLP
Chicago, IL
Hon. Mary F. Walrath
U.S. Bankruptcy Court
Wilmington, DE
The ceremony will take place at the Smithsonian Donald W. Reynolds Center for American Art and Portraiture, and will be presided over by D.J. (Jan) Baker, Chair of the College.
There are 39 nominees being honored and recognized for their professional excellence and exceptional contributions to the fields of bankruptcy and insolvency.
The American College of Bankruptcy is an honorary professional and educational association of bankruptcy and insolvency professionals. The College plays an important role in sustaining professional excellence and supports educational and pro bono efforts in local communities around the country. College Fellows include commercial and consumer bankruptcy attorneys, insolvency accountants, turnaround and workout specialists, law professors, judges, government officials and others involved in the bankruptcy and insolvency community.
Nominees undergo a rigorous nomination process and are extended an invitation to join based on a record of achievement reflecting the highest standards of professionalism. The College now has 821 Fellows, each selected by a Board of Regents from among recommendations of the Circuit Admissions Council in each federal judicial circuit and specially appointed Committees for Judicial and Foreign Fellows.
Criteria for selection include: the highest standard of professionalism, significant contributions to the community, ethics, character, integrity, professional expertise and leadership contributing to the enhancement of bankruptcy and insolvency law and practice; sustained evidence of scholarship, teaching, lecturing or writing on bankruptcy or insolvency; and commitment to elevate knowledge and understanding of the profession and public respect for the practice.
For more information about the American College of Bankruptcy, or about the 2013 Induction Ceremony, contact Shari A. Bedker, Executive Director at 703-934-6154, fax at 703-802-0207, email at sbedker(at)amercol(dot)org.