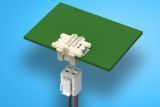 (PRWEB UK) 6 March 2013
TE Connectivity announced today the release of the High Power Inverted Thru Board SMT Connector. This lighting interconnect solution provides a means to bring power to aluminum clad and FR4 boards from the underside of the printed circuit board eliminating issues of dressing wires on the top side of LED boards.
The 2-position through 4-position connector surface mounts on the top of the printed circuit board, passing through the board, to present an interface on the underside of the board. The connector mates with Economy Power II connectors from TE Connectivity. The inverted design allows simpler assembly and installation of LED lighting in architectural, residential, and commercial applications.
With a space-saving low-profile design and rounded corners to minimize shadowing, the connector fits through a hole or notch in the board. High-temperature materials allow the connector to be reflow soldered, while a flat top surface provides compatibility with vacuum pickup from tape and reel packaging. The connector uses surface-mount hold-downs to provide stability during mating and unmating.
The High Power Inverted Thru Board SMT Connector assemblies are Recognized Compliant to Underwriters Laboratories Inc. (UL) and CSA International requirements as Listed in UL File No. E28476.
The High Power Inverted Thru Board SMT Connector is ideal for use in indoor or outdoor solid state lighting applications, lighting controls, and commercial meters.
For more product information, please contact your local TE Product Information Center or visit http://www.te.com/ledholders.
About TE Connectivity
TE Connectivity is a global, $13 billion company that designs and manufactures approximately 500,000 products that connect and protect the flow of power and data inside the products that touch every aspect of our lives. Our nearly 90,000 employees partner with customers in virtually every industry—from consumer electronics, energy and healthcare, to automotive, aerospace and communication networks—enabling smarter, faster, better technologies to connect products to possibilities. More information on TE Connectivity can be found at http://www.te.com/.
TE Connectivity and TE connectivity (logo) are trademarks. Other logos, product and/or company names might be trademarks of their respective owners.