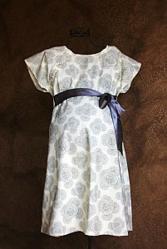 Beautiful Maternity Hospital Gowns!
West Des Moines, IA (PRWEB) March 07, 2013
Bliss Baby & Maternity knows that having a baby is not a fashion event by any stretch of the imagination. But many women are choosing to skip the hospital gowns in favor of more comfortable, practical and yes, fashionable options.
About to have a baby, the new mom gets handed the standard hospital gown to wear for delivery. One look at the gown and the realization sets in of how awful it is. All of the pictures of the momentous occasion and this is what will be worn?
I love to look at hospital pictures of new moms; it is the first thing to look for when someone has a baby. New moms always look so exhausted and strained, yet there is this beautiful "new mom" glow that could never be re-created. It's so precious and tender and they have this "I DID IT" look of satisfaction and pride! The baby always looks so perfect and loveable all swaddled up and then while the friends and relatives are swarming over that cute little baby, eyes glance to the side and what is seen is the horrible look that is a dingy old hospital gown. Such a wonderful and touching time deserves much more than an ugly hospital gown that's been worn by a million moms before. I'm sure experienced moms are thinking, who the heck cares what the gown looks like, just get the baby out.
It's funny how women always remember what is worn on the most memorable days of life.
Not for this Mom! Be comfortable and look stylish while giving birth! Bliss Baby & Maternity has many beautiful, different, and affordable hospital maternity gowns that make baby day of birth beautiful and mom too. Now when that camera snaps, Mom will look beautiful and confident with that new little bundle in your arms.
The maternity hospital gowns make an amazing baby shower gift!
After leaving the hospital, use your gown as a nightgown. It is beautiful and comfortable as well as easy for breastfeeding in the middle of the night!
Visit http://www.blissbabyandmaternity.com for all your maternity and baby needs!