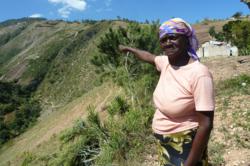 Empowering women is critical to solving the global water crisis and so much more.
Phoenix, AZ (PRWEB) March 05, 2013
On March 8, International Women's Day will be observed globally and highlight the role of women in any society's wellbeing. Food for the Hungry (FH) weaves the education and empowerment of women into programs worldwide and is witnessing the fruit of these measures to build healthier, poverty-free communities.
Access to clean water is one of the many critical areas where FH has witnessed the education and leadership of women as irreplaceable. FH clean water programs are commonly led by water management committees which help communities take ownership of meeting their own needs. As women are the critical link between households and clean water, empowering them to be active members in these committees is essential.
Christian Jean Cimilien, a 67-year-old widow in the Haitian community of Lefevre, is one woman who is leading community change. When FH began working in Lefevre, community members determined that one of their biggest challenges was water. Multiple times every day, the community's women and children were fetching water by making a 45-minute downhill trek, followed by a strenuous climb back up. They carried back as many buckets of water as they could. Each eight-pound gallon of water was used for drinking, bathing, cooking, sanitation and gardening.
The simple solution to this problem could seem to be merely constructing a special water tank to capture rainwater right in the middle of the community. But the tank would become practically useless unless community leaders embraced this solution and took ownership of tank maintenance and use. Today the community has a new water tank and Cimilien is trained by FH and will soon be helping to lead her community to manage their water needs. She lives out this role in spite of the fact that Haitian society—like many societies around the world—can view women as inferior to men.
By giving women a say in solving a community's water access problems and empowering them to lead the maintenance of water infrastructure, time and again FH is seeing water programs succeed. In 2012 FH helped more than 200,000 people globally through clean water programs.
"Empowering women is critical to solving the global water crisis and so much more," said Karen Randau, FH Director of Communication. "As long as women are kept out of the leadership structures that contribute to community wellbeing, men, women and children will suffer. Conversely, exponential results can be realized when women are reaching their full potential worldwide."
Photo caption: Christian Jean Cimilien points to the hillside that women and children climbed to bring water home.
Founded in 1971, Food for the Hungry provides emergency relief and long-term development programs in more than 20 countries to help the world's most vulnerable people. Learn more by visiting http://www.fh.org. Social connections include facebook.com/foodforthehungry and twitter.com/food4thehungry.