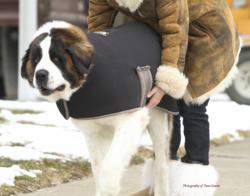 I took him for a walk in the rain it kept him dry. When I left him outside when my kids are shoveling snow or my kids are playing, he goes out there and plays with the coat on. It prevents that 'wet dog smell' that nobody likes.
Farmington Hills, MI (PRWEB) March 06, 2013
Michele Green is getting used to the hum of sewing machines in her finished basement. Her Mom and Aunt (Phyllis Dobrik) used to sew her Ice Skating costumes when she was growing up. But recently, Michele taught herself to sew.
"I had a dog that was very sick during the winter, and we couldn't find a coat of quality let alone large enough to fit him," explained Green.
Her Rottweiler-Shepherd "Chase" had been shaved for surgery and hated going outside in the wet, freezing snow, as he was fighting an aggressive blood cancer.
She tried large sweatshirts to cover him, but it didn't work well as Chase would still end up wet from the rain or snow. He passed away before she could come up with a solution.
"So approximately two years ago, with the combined measurements of "Chase" as well as my St. Bernard "Madison" who also passed away, I just sketched out a pattern and created the coat. I realized that there really wasn't anything on the market for the very large breed, let alone something of quality that would last throughout the seasons. It really became a concern when my large breed dogs were getting older and suffering from different diseases or ailments. I wanted to bring comfort to the ailing large breed dog, who we just assume because of their size or long hair they don't require the protection from the elements or to keep dry. Madison suffered from nerve damage that rendered her back legs lame, so I would have to walk Madison's back legs for her in the elements…regardless, if it was spring and just raining or during a harsh Michigan snow storm, she also suffered from arthritis and as humans we can't stand to be cold or wet while we are feeling under the weather and I am sure it's just as uncomfortable to our family pets who are aging" said Green.
She calls it The Chase Coat. An embroidered patch even bears her beloved dog's image.
She launched the coat in the spring of 2011. It costs about $199.
"The outer layer is neoprene which is used for scuba diving, so the rain/snow literally just runs off the coat without it penetrating the material keeping the animal dry, as well as the material allows the body temperature of the animal to adjust naturally in any weather condition be it spring/fall rain or winter snow/sleet season. I wanted to utilize a very unique/durable material in making the coat and because of the material that I used it is more expensive than your run of the mill paper thin dog coat" said Green.
The inner layer is a soft, plush Polartec which is often used as a lining in sturdy, warm winter coats for humans.
The coat can be easily slipped over the dog's head, as the velcro on either side of the coat holds the coat in place at the chest. The coat has two soft straps with velcro on the ends and the two straps wrap underneath the dog just at the base of the ribs.
Susan Comerzan's St. Bernard "Samson" has been modeling and wearing the coat since the winter of 2011.
"I took him for a walk in the rain. I put it on him then because it kept him dry. And then when I left him outside when my kids are shoveling [snow] or my kids are playing, he goes out there and plays [with the coat on]," said Comerzan.
She laughed and added, "It prevents that 'wet dog smell' that nobody likes."
Green says her parents help with cutting the materials and sewing, but she takes care of the design work.
"I had also stumbled into starting to make the coat for the smaller breed. I had heard that Wendy Diamond's (the founder and editor of Animal Fair magazine in New York) pet, which was a Maltese named Lucky, was diagnosed with a similar cancer that had taken "Chase." I felt compelled to downsize the pattern, customize the coat to fit Lucky and ship the coat off to Wendy for Lucky to enjoy. I was unable to get the coat concept completed in time for Chase but, in some small way I felt that I had made it up to Chase through Lucky and I hope that I brought some comfort to her. Now along with our standard size Chase Coat Classic, I am able to customize the coat for our clients to their pet's specified size or breed", said Green.
The home shopping network had made inquiries about her family start-up business when it launched. As well as, The Chase Coat was an Editor's pick in the October, 2011 issue of Pet Product News/Pet Product Style.
A Hollywood swag event had even including The Chase Coat in goodie bags for the yearly Hollywoof event for animal-loving A-listers.
"Our coats can now be found in the homes of people like Alicia Silverstone, Miley Cyrus, Betty White, Charlize Theron, Kellan Lutz, Cesar Milan, Rachael Ray, Oprah Winfrey, Kathy Griffin, Katherine Heigl, Denise Richards, Kelly Osbourne, and Chelsea Handler…as well as we gave gift certificates to Tori Spelling, Kristin Bell, Paris Hilton, Drew Barrymore, Kate Beckinsale, Blake Lively, Katherine McPhee, Mario Lopez, Fergie, Olivia Wilde, Justin Timberlake and Jai Rodriguez", said Green.
Who knew her love for Chase would lead to a creation for cherished pets of others.
Check out the Chase Coat at http://www.ChaseCoat.com for full product description and in the "About" tab for the full story about Chase. Green has also created a Face Book Fan Page for "The Chase Coat For Big Dogs, LLC", which can be found here: https://www.facebook.com/pages/The-Chase-Coat-For-Big-Dogs/143757165682465?ref=hl (or by simply by typing in the Face Book search box "The Chase Coat For Big Dogs")
Green would really appreciate people stopping by "The Chase Coat For Big Dogs" Face Book Fan Page and give it a "Like" to help spread the word and support US Small Businesses.
The Chase Coat For Big Dogs, LLC.
Michele Green
Farmington Hills, MI 48336
P: 248-957-8573
F: 248-479-0365
E: TheChaseCoat(at)twmi(dot)rr(dot)com
http:http://www.ChaseCoat.com