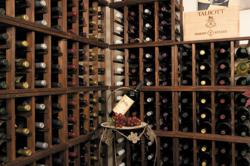 "We received the assembled racks a week after ordering them. They were perfect, stylish, and ready to go right out of the box!" - Janet Kim
Cincinnati, OH (PRWEB) March 07, 2013
World's foremost designer and manufacturer of fine wine racks and custom built wine cellars is again set to take the wine cellar industry by storm with the launch of its newest product line: the Mini Stack Wine Racks Series. To celebrate, they are offering 50% off their newest products. The new product line will be Wine Cellar Innovations' first ever line of shipping out fully assembled wine racks.
Wine Cellar Innovations has been providing an extensive and growing product line to custom wine cellar enthusiasts all over the globe, starting with their custom product levels: the Silver, Gold, and Platinum series. They also managed to answer to the needs of budget-conscious clients with the release of their wine rack kits. Now, they have embarked on a new project specifically designed to match the consumer's budget and wine storage needs by shipping out these new wine racks with no assembly required.
Wine Cellar Innovations also offers a free wine cellar design to maximize wine bottle capacity for the selected wine storage area. By providing specific measurements of the selected area, expert Design Consultants will create a fast and free CAD design for the wine storage area. Watch the video on how the design process starts and turns into a completed custom wine cellar to see an example of their quality.
The Mini Stack Wine Rack Series is another versatile addition to the company's line of space-efficient small wine racks. The compact configurations allow these racks to be stacked comfortably into tight spaces, and allow any wine collector to grow their collection at their own pace. Appropriately given its name, the Mini Stack Series comes in individual and bulk wine bottle storage options which can be stacked one on top of the other or side by side. They can also accommodate cardboard wine cases as well as delicate wine glassware, to create unique wine tasting stations. The racks are manufactured from solid wood construction, and boast a contemporary dark walnut stain. Being fully assembled, no extra work is required. Just simply pull the rack from the box and stack away!
Like all Wine Cellar Innovation's racking products, each component of the Mini Stack Series has been proudly made and crafted in the USA by a family owned company since 1984. Learn more about the Mini Stack Series, their ongoing deals and promotions, in addition to all of their products and services at the company's official website http://www.winecellarinnovations.com .
About Wine Cellar Innovations
Wine Cellar Innovations is a 350,000 sq. ft. facility in Cincinnati that designs, crafts, and installs the world's leading wine cellars for discerning clients all over the globe. The company's custom design capabilities allow designers, contractors, builders and architects and their discriminating clientele to experience up front complimentary designs of their dream cellars before construction begins. This ensures satisfaction and opportunities for modifications during the design phase. Many series of wine rack kits are also available for purchase on the company's website. Wine Cellar Innovations's ultimate goal is to always provide quality yet cost-efficient solutions for any and all wine storage needs. Visit their website for more information on the full product line, the latest product releases, as well as updated wine and wine-cellar related articles on their blog.