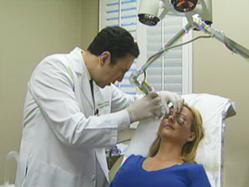 Los Angeles, California (PRWEB) March 05, 2013
According to a study published in a February 28, 2013 Los Angeles Times article, researchers have discovered that there are "bad" strains of acne linked to pimples and "good" forms that may be protecting the skin. This knowledge can potentially lead to a reduction in the frequency in which acne appears (Go to: goo.gl/kNP3D)
"Acne is an all too common affliction," says Dr. Simon Ourian, Cosmetic Dermatologist and Medical Director of Epione Beverly Hills, "as the article states, 85% of the population will have splotches and pimples at some time in our lives. I do not use the term 'affliction' lightly; the results of acne can be disfiguring. I'm interested in any treatment that has the potential to eliminate the problem."
According to the study, published in the Feb. 28 issue of the Journal of Investigative Dermatology, the findings could inspire a range of new therapies designed for the prevention and treatment of this skin condition.
For example, doctors may one day be able to prescribe "good" P. acnes in the form of a probiotic cream. It would work much the same way probiotics found in yogurt restores the populations of beneficial bacteria in the lower digestive tract.
The researchers used pore-cleansing strips to remove P. acnes bacteria from both acne sufferers and volunteers with clear skin. They extracted the DNA from the microbes and followed a marker to help in the identification of bacterial strains found on subject's noses, noting whether the individual had acne. They found that the various bacteria strains appeared much differently when they were lifted from diseased skin, as opposed to healthy skin.
Researchers also discovered a third type of P. acnes often found in normal skin but much more rarely in acne-affected skin. They speculate that this third strain of P. acnes has the ability to recognize and prevent attackers from destroying it.
The researchers think that increasing populations of the friendly form of P. acnes with a topical treatment may lead to clear skin. Other research is expected to look at developing new medications to kill bad P. acnes strains and keep the good ones.
"Of course, this was one study with only 101 participants, a lot more work needs to be done before I'll have something I can offer my patients. I deal with acne and acne scarring nearly every day," concludes Dr. Ourian, "I look forward to seeing the practical results of this research."
Dr. Ourian has been a pioneer in laser technology and non-invasive aesthetic procedures including Restylane, Botox, Juvéderm, Radiesse and Sculptra. These treatments are used for the correction or reversal of a variety of conditions such as acne, acne scars, skin discoloration, wrinkles, stretch marks, varicose veins, cellulite, and others. More information about acne can be found on Epione's website.