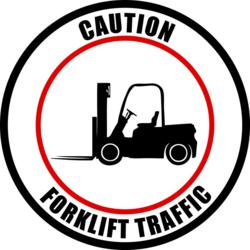 "We have had no forklift accidents since installing the signs throughout our warehouse. Safety is important to our employees and business and the signs are an affordable way to keep our employees safe."
Lake Oswego, OR (PRWEB) March 07, 2013
Facilities that conduct business where forklifts and tuggers are present should be aware that safety can be jeopardized if warning signs are not displayed. Creative Safety Supply understands the importance of safety and is now offering forklift and tugger floor signs to help keep the workplace safe. The forklift and tugger traffic signs are industrial-grade and are made from a durable vinyl and will hold up to extreme forklift, tugger and foot traffic. The signs provide information where it is needed most – on the warehouse floor. The signs are easy to install and can be placed almost anywhere by just peeling and sticking it to almost any surface. Sizes range from 12 inches to 32 inches in diameter and can be seen from a distance away.
Successful companies incorporate safety programs and lean methods into their daily business activities and the forklift and tugger traffic warning signs fit right into these programs making any safety program affordable. Safety is critical to a company and these signs can prevent unnecessary accidents form happening. Making employees and visitors aware of forklift and tugger traffic is as simple as displaying signs that are large enough and color enough to see. When accidents do happen, it can cost a company thousands of dollars for disability and compensation insurance. Once an employee is injured, productivity is hindered and could cause profits to decrease and customer service can be affected in a negative way.
A plant manager commented about the warning signs, "We have had no forklift accidents since installing the signs throughout our warehouse. Safety is important to our employees and business and the signs are an affordable way to keep our employees safe."
For more information about forklift or tugger floor signs, please visit http://www.creativesafetysupply.com/Caution-Forklift-Traffic-Floor-Sign/ or call toll-free (866)777-1360 to speak with a professional representative.