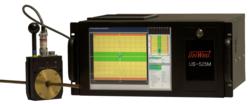 Pittsburgh, PA (PRWEB) March 06, 2013
With an exceptional signal-to-noise ratio, the 525M enables detection of smaller flaws that other instruments may miss. The instrument is ideal for quality assurance in the automotive, aerospace, and metal production industries.
This rugged, rack-mounted eddy current instrument can be integrated into a semi- or fully automatic inspection system to provide reliable non-destructive testing in an inline production environment.
UniWest's 525M is ideal for bar, tube, wire and specialty component testing needs. It offers up to eight channels, with a frequency range of 20 Hz to 10 Mz, a bright 12-inch diagonal color LCD flat-panel screen, 32-gigabyte data storage, input/output (I/O) capability, three discrete alarm gates with independent outputs per channel, an integral digital strip chart, as well as USB and Ethernet control and data transfer to meet a wide range of production testing requirements. Most important, the 525M provides the kind of quality, reliability and durability UniWest instruments are known for. For more information, visit UniWest.com or call 509-544-0720 to arrange an on-site demonstration and consultation.
Founded in 1985, UniWest is a leader in applications engineering for nondestructive testing. The company designs, manufactures, and services a full line of dependable, robust eddy current and ultrasonic testing products custom-designed to fit each application. UniWest offers solutions to complex inspection problems for OEMs within the aerospace, power generation, automotive, and other industries.