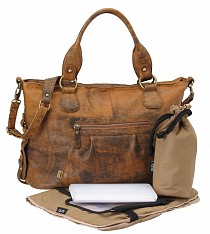 OiOi Jungle Leather Satchel
(PRWEB) March 12, 2013
Bliss Baby and Maternity is now carrying OiOi Sophisticated Baby bags. These bags were created more than 10 years ago to empower mothers to have the confidence to look amazing and feel equally as good. With a wealth of experience in fashion and accessories, these bags were created out of necessity for something like this in the marketplace. Who says that a diaper bag cannot be stylish yet functional? The OiOi Messenger bag was born from that idea.
OiOi bags have led the way for over a decade and are the original and essential style accessory that mothers throughout the world love almost as much as the little ones themselves. OiOi has continued to evolve as an internationally recognized label since the first launching OiOi in the UK in 2002 and in the USA in 2003. The company's continued success in an increasingly competitive market is a result of Lisa's knowledgeable background and ability to combine new season fashion with functional and innovative designs.
OiOi Baby bags are stylish, innovative and practical, known for their superb quality and reliability. The bags are loved for their spectacular designs, vibrant fabrics, and functional styles that have no comparison. Sprouting from a single bag in 1997, the collection now resembles a lively, bustling family with over 40 styles available. There are even bags for dads that don't want to carry the flowery type diaper bags. These bags are manly enough so that when dad is on duty, he can carry his own baby bag.
OiOi bags are made of exclusive material customized for OiOi. They are favored for their color, texture and beauty. Vintage style washing and distressing techniques give this design a unique quality to that no two pieces are exactly the same.
OiOi baby bags are quality tested by an independent laboratory. This gives peace of mind knowing that the OiOi baby bag is safe for mom and baby and the environment.
OiOi baby bags contain no Azo dyes, no blue colorants, no phthalates* or other toxins. These strict quality standards have been in place for many years as part of our long term commitment to clean living.
Please visit http://www.blissbabyandmaternity.com for all the baby bag and diaper bags needs and look at the variety of OiOi diaper bags that the store carriers. Visit today for a limited 10% discount. (Details on the website)