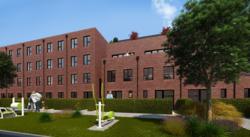 Foreign Students are worth 125 m per year to Sheffield local economy
Sheffield, Yorkshire (PRWEB UK) 8 March 2013
As the market-leading student accommodation specialist launches its latest project –Dunfields, recent reports indicate that Sheffield is a city that welcomes student investment.
With an annual population of more than 60,000 students, Sheffield is a prime destination for both under-grad and post-grad applicants. A recent study of approximately 8,000 overseas students commissioned by the University of Sheffield, found that foreign students are worth £125m per year to the local economy; a boon to private student accommodation developers who are seeking to build residences which are of a much higher quality than those provided by the universities.
Choosing to focus on a region like Sheffield as it has a shortage of private, high quality residences; Manchester-based Knight Knox International has launched its latest student development in the trendy Kelham Island district. The Dunfields project is identified as a prime investment opportunity and is delivered by the award-winning architects, Coda Studios.
This launch follows the major successes the company has experienced in the student property market over the past 12-18 months, with a number of sell-out developments contributing to the exclusive status it enjoys with its partner developers. Minerva House, a 151 room student development in Nottingham was launched by the company just over a month ago and 75% of the units have already been sold to investors.
Another recent student development, Bard House, sold out within just three months of launching; making it the fastest-selling property the company has marketed to-date.
"As an investment, student accommodation is relatively low risk and provides a strong profit. Occupancy levels continue to be high and most universities are in need of more private accommodation" comments Martin Copeland, Sales Director at Knight Knox International.
Copeland further comments "Average yields for regional cities currently stand at 6-6.5% across the UK, but by choosing to invest with Knight Knox International, investors can expect to receive between 8% - 10% assured NET yields for the first year".
This evidence shows that student property continues to be an essential asset for any discerning investor's portfolio. There are many reasons why; student property delivered 9.6% total returns in 2012. These returns out-stripped every other property market, with offices returning 4.4% and retail returning 2.2%. In addition, last year saw investment in the sector soar by 125% - reaching a staggering £2.7 billion.
Fears that tuition fees would lead to a reduction in applications to UK universities have proved to be unfounded. Universities are still as popular as ever, with figures showing that for every ten places there are at least fourteen applicants. There is an ever-growing increase in overseas students in the UK, with European and overseas students now accounting for more than one sixth of the university population, a main proportion of which have a high tendency to choose private accommodation. With five of the top twenty universities in the world situated in the UK, the influx of overseas students is set to continue to rise.
Dunfields is a new-build development of 18 townhouses and will be located within the trendy Kelham Island, providing over 80 students with private accommodation.
The individual townhouses will be comprised of either four or five en-suite bedrooms and will have a communal-floor containing kitchen, dining and lounge facilities. Overall there will be 46 double rooms and 36 single rooms. The Dunfields site is the perfect location for students; situated only a 10 minute walk from Sheffield town centre.
Individual units start at £44,000 and offer NET rental returns of 10% assured for the first year and due to the shortage of private accommodation in regional areas, like Sheffield, investors can be sure there will be a strong annual rental demand for your unit.
For further information on Dunfields, or the full range of student accommodation developments available through Knight Knox International, please contact +44 (0)161 772 1370.