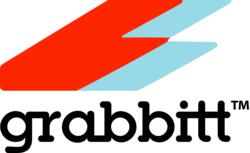 With a quick scan and a click, grabbitt allows users to grab a song or video, download content, buy merchandise and much more.
Austin, Texas (PRWEB) March 06, 2013
With the unveiling of its new grabbitt application at this year's South By Southwest Interactive Festival, Austin's Worldwide Product Technology (WPT) is looking to change the way concert goers experience live music events, and boost the sales opportunities for event promoters and bands.
grabbitt is a patented iPhone and Android app that streamlines the purchasing and downloading process for consumers through mobile scanning technology.
"With a quick scan and a click, grabbitt allows users to grab a song or video, download content, buy merchandise and much more," said grabbitt Principal and Creator Justin Hissong.
grabbitt uses electronic codes (barcodes, QR codes or RFIDs) to connect users to media, content or purchasing opportunities. For the vendor, grabbitt elevates exposure to the customer, allowing for higher interactions and showcasing the event's merchandise and other offerings. Through grabbitt, users can then share their experience with friends on social networks like Facebook, Twitter and Spotify further broadening the audience base for the venue.
Additionally, grabbitt brings back the revenue stream of selling music on site that has eroded over time as music lovers have grown accustomed to digital music. And it does so without the packaging expense and waste of CDs.
"The codes that initiate the grabbitt dialogue with the audience can be placed on tickets, event posters, video monitors and most anywhere else the event host wants to engage the users," added Hissong.
While concerts and music festivals are the immediate target for grabbitt usage, the developers also see many other applications in the near future, says WPT CEO Melynda Caudle.
"Virtually any event that previously shared printed media can now be instantaneously downloaded to a smartphone or tablet without printing, handing out flash drives or extra steps of downloading through a website. Corporate events or conferences, schools and even retail environments could all benefit from grabbitt," said Caudle. "The day will come when you won't think of having an event without grabbitt!"
See grabbitt for yourself at SXSW Trade Show booth number 1341, March 10-13. Or get a sneak peak of grabbitt in action at the McCombs School of Business showcase at booth 740.
About grabbitt
grabbitt is a smartphone-ready (iPhone and Android platforms) application created by Austin-based Worldwide Product Technology. The mobile tool allows event marketers to quickly share music, video files, documents (PDFs), picture files, and other assets with customers. These assets can either be offered for free as promotional items or sold through pre-arranged accounts. The grabbitt app is unveiling at the South By Southwest Trade Show in Austin, March 10-13.