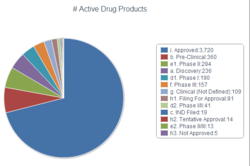 Norwood, MA (PRWEB) March 07, 2013
As we get closer to the American College of Cardiology (ACC) meeting 9-11 March, BioPharm Insight has put together a snapshot of forward-looking cardiovascular (CV) disease coverage. To view the full report, start a free trial today.
CV-related diseases are the number one cause of death globally, with an estimated incidence rate of 17.3 million people, according to World Health Organization (WHO) 2008 statistics. Besides antiplatelets and antithrombotic therapies, oral anticoagulants have been prescribed to prevent CV disease, replacing the cumbersome standard-of-care, warfarin.
In January 2013, BioPharm Insight reported that Daiichi Sankyo's Phase III Lixiana (edoxaban) stroke prevention drug is not viewed as differentiated enough from already-approved drugs such as Boehringer Ingelheim's Pradaxa (dabigatran), Bayer/Johnson & Johnson's Xarelto (rivaroxaban) and Bristol-Myers Squibb/Pfizer's Eliquis (apixaban).
WHO's data shows 7.5 million deaths, or 13% of all CV-related deaths, can be attributed to raised blood pressure. Of those 7.5 million deaths, 51% are due to stroke and 45% are due to coronary heart disease. Cholesterol accumulation in blood vessels is a major risk factor for stroke and heart disease.
On 14 December 2012, BioPharm Insight reported that Merck's Vytorin (simvastin/ezetimibe) and Zetia (ezetimibe) cholesterol drug sales could be negatively impacted should the IMPROVE-IT CV outcomes trial for Vytorin fail to demonstrate a significant reduction in events. Experts also believe that due to the recent failure of the HPS2-THRIVE outcomes trial of Merck's "good" cholesterol-raising (HDL) drug Tredaptive, the FDA is apt to require CV outcomes results for Merck's other combination drug, Zetia/atorvastatin prior to approval.
While enthusiasm for the cholesteryl ester transfer protein (CETP) inhibitor class dwindles after the HPS2-THRIVE trial failed to meet its endpoint, anti-PCSK9 strategies such as those by Regeneron Pharmaceuticals, Sanofi and Amgen have garnered a great deal of enthusiasm. This past November, BioPharm Insight reported that Regeneron/Sanofi's SAR236553/REGN727 and Amgen's AMG 145 were likely to yield similarly efficacious cholesterol-lowering effects in Phase III assessment.
Additional report highlights include:

AMG 145, an anti-PCK9, proves an unlikely fit for homozygous familial hypercholesterolemia (hoFH).
Aegerion faces uncertainty in its quest for EU approval of Juxtapid.
GlaxoSmithKline's atherosclerosis candidate darapladib faces low prospects of demonstrating significant CV event reduction.
Access all of BioPharm Insight's reports by starting a free trial today.
About BioPharm Insight
BioPharm Insight is the definitive guide to the global biopharma community. BioPharm Insight provides subscribers with an information edge by combining the most comprehensive real-time database of companies, drugs, contacts, M&A and licensing deals, forecasts and clinical trial data with proprietary forward-looking intelligence uncovered by an independent team of investigative journalists months or even years before it breaks in mainstream media. To learn more, visit http://www.biopharminsight.com. Follow BioPharm Insight on LinkedIn and Twitter.
About Infinata, Inc.
Infinata provides personalized technology solutions to turn information into insight. Services include a comprehensive BioPharm Solutions Suite, unique Wealth Prospecting tools and innovative Custom Data Services. Infinata is a part of Mergermarket, a Financial Times Group company and a division of Pearson plc. To learn more, visit http://www.infinata.com.