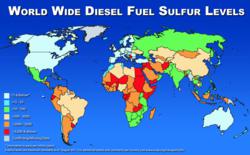 High sulfur diesel fuel will clog a DPF filter faster than a diet of bacon-chili triple cheeseburgers.
Fort Lauderdale, FL (PRWEB) March 15, 2013
High sulfur diesel is absolute poison to a DPF equipped vehicle. It will clog a Diesel Particulate Filter (DPF) faster than a diet of bacon-chili triple cheeseburgers. Outside the US, Canada, Europe and Australia, high sulfur diesel is usually the only diesel fuel available. It's also known as "red diesel fuel" for offroad use here in the USA. What is an end user to do if they need to operate a Cummins Diesel DPF equipped engine on high sulfur diesel fuel?
Our story begins with an exporter that had a customer waiting for three new 2012 F-750 trucks. However, the customer already had several 2011 F-750 trucks with constant problems like clogged DPF's, red stop engine lights and yellow check engine lights. Local service in Venezuela confirmed that the fault codes & issues were caused by high sulfur diesel repeatedly fouling the DPF after treatment.
ECM Performance in Florida was able to solve the problem with their unique ECM (Engine Control Module) reprogramming service. Since the three new trucks were still in the USA, ECM Performance were able to reprogram the vehicles onsite for DPF removal. The exporter then had the DPF filter and urea injection removed. After several months & more than 1,500 hours running on high sulfur diesel, the customer reported excellent performance and no engine problems.
Jim Comack at ECM Performance said, "Around the world, high sulfur diesel is a huge issue for DPF after treatment systems. Our company provides a quick and permanent solution that allows the customer to simply remove the DPF and urea injection."
The programmers at ECM Performance accomplish this by modifying the truck's calibration to shut off the after treatment system & DPF cleaning cycle while maintaining 100% Code Free operation. Jim Comack explained, "In addition, we increase the power, reliability and long term engine life while decreasing the total cost of ownership for their fleet. For export customers, this is a home run."
As a footnote to our story, Jim Comack reported that "The exporter to Venezuela overnighted the 2011 F-750 ECM's to ECM Performance for reprogramming as well."
ECM Performance offers custom Engine Control Module (ECM) programming & Diesel Particulate Filter (DPF) Deletion for Cummins ISB 6.7 & ISC 8.3, ISL, ISM, ISX, Paccar PX6 & PX8 DPF equipped diesel trucks like Ford F650 - F750, Peterbilt, Capacity, Freightliner, Kenworth, Sterling Trucks, Thomas Bus, Utilimaster & More. Diesel engine platforms CM2150D, CM2250D, CM876 & CM871 - Cummins ECM Part #'s 4943134, 4940520, 4963807, 4993120, 3684009 & 3684275).
Applications and industries served by ECM Performance include Military Export, Off Road Conversions, Farm & Industrial; Fire Trucks, Safety Equipment & Emergency Vehicles; Pump, Tow & Equipment Trucks; Boom, Crane, Cable, Roll-Offs & Roll-Backs; Drilling, Welding & Mine Service Rigs; Aviation Ground Service & Fuel Trucks. Emergency response, off road & export only.
Cummins, Paccar, Ford, Peterbilt, Kenworth & Sterling Trucks do not endorse, have any affiliation or connection with ECM Performance or its services. Any product names, logos & trademarks in this press release are the property of their respective trademark holders.