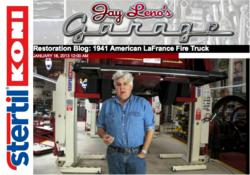 Stertil-Koni, the recognized leader in heavy duty vehicle lifts, is proud to have the company's wireless mobile column lifts personally selected by Jay Leno.
Stevensville, MD (PRWEB) March 06, 2013
What's the best way to install a state-of-the-art frictionless, induction breaking system in a 1941 American LaFrance Fire Truck?
At Jay Leno's Garage the answer is simple: first get a set of Stertil-Koni ST 1082 Wireless Mobile Column Lifts. As Jay knows, Stertil-Koni takes heavy duty vehicle lifting to new heights. Each of the company's hydraulic ST 1082 mobile column lifts has a capacity of 18,000 lbs. per column and a set of four on Jay's shop floor has a capacity of 72,000 lbs. – easily handling the lifting and lowering of the TV star's eight-ton classic, V12 engine monster fire truck.
As a dedicated vehicle enthusiast and knowledgeable technician, Jay Leno enthusiastically explores the very latest in vehicle servicing and restoration techniques in his highly acclaimed series, Jay Leno's Garage (http://www.jaylenosgarage.com).
That's why Stertil-Koni, the recognized leader in heavy duty vehicle lifts, is proud to have the company's hydraulic lifts personally selected by Jay. Industry experts, like Jay, recognize that Stertil-Koni's mobile column lifts are distinguished by their highly dependable hydraulic lifting system that operates quickly, efficiently and smoothly – with low maintenance – in contrast to certain mechanical lifting approaches.
Clearly, one of the most eye-catching features of the Stertil-Koni 1082 is its wireless capability. These lifts require minimal set up time, as no interconnecting cables are required, and utilize a 24 VDC system, so no external power source is needed to operate them. The result is a superior heavy duty lifting system, with maximum access to the vehicle and no risk of tripping.
About Stertil-Koni USA, Inc.
Stertil-Koni is the global market leader in heavy duty vehicle lifts –bus lifts and truck lifts – and is the preferred supplier to the world's leading companies in the truck and bus industries. Stertil-Koni's breadth of products meets all ranges of lifting needs and includes mobile lifts, two-post, four-post, in-ground piston lifts, parallelogram lifts, half-scissors and its innovative axle-engaging,in-ground, scissor lift configuration, ECOLIFT. Stertil-Koni has also recently introduced DIAMOND LIFT, a full rise telescopic piston lift designed to set new standards in precision heavy duty lifting. Stertil-Koni is headquartered in Stevensville, Maryland and has a major production facility in Streator, Illinois.