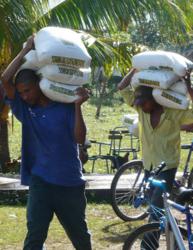 "We've seen these powerful feeding programs save lives and help communities lift themselves out of poverty," George Guimaraes, CEO of PCI, and current Chairman for the Alliance for Global Food Security.
Washington, DC (PRWEB) March 06, 2013
In anticipation of the release of the 2014 fiscal budget later this month, the international aid community is campaigning to preserve funding for the USAID Food for Peace and USDA Food for Progress programs, critical to feeding those living in global poverty. PCI (Project Concern International) has joined more than 85 private voluntary organizations, farming, shipping, and labor groups to urge President Barack Obama and the Office of Management and Budget (OMB) to ensure full funding for these programs. The letter signed by PCI and the other organizations last week argued:
"Growing, manufacturing, bagging, shipping and transporting nutritious U.S. food creates jobs and economic activity here at home, provides support for our U.S. Merchant Marine – essential to our national defense sealift capability – and sustains a robust domestic constituency for these programs not easily replicated in alternative foreign aid programs."
Additionally, a bipartisan group of 21 senators sent a letter last week to the Obama administration, urging it not to propose cuts to Food for Peace, generally known by its public law number as the PL 480 program. Signers included the chairmen and ranking members of the Senate Agriculture Appropriations Subcommittee and the Agriculture Committee. The program provides food aid in times of need and runs government-to-government sales of commodities to developing nations. Proceeds from the sales can be used to develop markets for U.S. agricultural goods in those countries as well as to pay for work such as agriculture research and development. Food for Peace buys most of the food stateside and then ships it aboard U.S. vessels to places in need. Supporters say the program benefits U.S. farmers and shippers, as well as people in poor countries. The letter stated:
"American agriculture is one of the few U.S. business sectors to produce a trade surplus, exporting $108 billion in farm goods in 2010. During this time of economic distress, we should maintain support for the areas of our economy that are growing. In addition to providing American commodities directly to those without access to food, Food for Peace supports a variety of developmental programs implemented by U.S. faith-based organizations designed to help end the cycle of poverty."
Since 1961, PCI has recognized the inextricable linkages between nutrition, food security, and health, and has focused especially on those who are most vulnerable to malnutrition, namely children and pregnant and lactating women. Undernutrition experienced during a child's first 1,000 days of life (i.e. from conception through two years of age) too often results in irreversible and devastating brain damage and stunted growth. To prevent malnutrition in pregnant and lactating women, PCI educates mothers on the need to consume a diverse diet and to take micronutrient supplements (e.g. iron, vitamin A, folic acid, etc.). PCI also provides supplemental food rations for mothers and children when possible and appropriate, and implements recuperative strategies to provide treatment to children and women who are undernourished. These critical programs save lives, build resiliency, and foster the development of entire communities.
The draft budget proposes a cash-based program for international procurement of commodities. However, lessons learned point to more developmental and resilience-building approaches when providing food aid. Many of those lessons are already incorporated into the latest PL 480 Title II development programs and Food for Progress Programs. More could be done, which is why the Alliance for Global Food Security supported the House Agriculture Committee's Farm Bill provisions that assured developmental uses of food aid would not diminish, required improved reporting on findings from those programs by USAID and USDA. The provisions also require the benefits of monetization to the recipient country, making it clear that it is not just a way to generate funds for program activities. Although local-regional purchase has an important role to play in food aid, it cannot supplant the role of the Food for Peace program. There are complexities, as well as cost and volume limitations, when buying locally including investment to improve local food systems, and the safety and quality of products.
"Please join PCI in loudly and clearly declaring that USAID Food for Peace and USDA Food for Progress programs are critical, resilience-building programs that should not be eliminated and/or replaced with mere cash grants. We've seen these powerful feeding programs save lives and help communities lift themselves out of poverty," George Guimaraes, CEO of PCI, and current Chairman for the Alliance for Global Food Security.
To learn more about this important issue, visit the http://www.foodaid.org website today or contact PCI at 858-279-9690 x368.
###
Celebrating its 50th anniversary in 2011, PCI (Project Concern International) is an international health, development and humanitarian assistance organization, operating in 16 countries worldwide. PCI is dedicated to saving lives and building healthy communities around the globe, benefitting over 6.7 million people annually in Asia, Africa and the Americas. Funded by federal grants and private support, PCI's current annual budget is nearly $50 million and the organization has 600 employees worldwide. PCI's headquarters are located in San Diego, CA and also has an office in Washington, DC and a Seattle, WA representative.