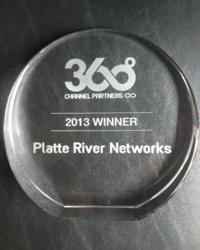 'We are honored to receive such recognition for our commitment to IT, cloud and telecom services,' said CFO Brent Allshouse of Platte River Networks.
Phoenix, Arizona (PRWEB) March 06, 2013
Channel Partners magazine, which focuses on the communications industry's indirect sales channel, is pleased to announce that Platte River Networks has been selected as a winner of the inaugural Channel Partners 360⁰ Awards.
Twenty-five winners were honored during an awards ceremony on February 27 at the Spring 2013 Channel Partners Conference and Expo in Las Vegas. These winners will be featured in Channel Partners' March digital issue, May/June print issue as well as an Immersion Center. The 2013 program was underwritten by AT&T.
"Unlike other programs that honor size and sales, the Channel Partners 360° Awards recognizes channel partners who are taking a holistic approach to delivery technology solutions that create business value for their customers," said Khali Henderson, Editor-in-Chief of Channel Partners. "We are pleased that our first honorees include an outstanding group of solutions providers."
Platte River Networks has consistently enhanced its IT, telecom and cloud services practice. They made a name for themselves when they introduced Intuition in 2007, a proactive monitoring and maintenance suite bundled within the Cloud and capable of handling their clients' entire IT infrastructure. Intuition provides 24x7 remote and onsite management of network environments; including cloud-based business class: antivirus, email security, web security, offsite backup and disaster recovery.
"We are honored to receive such recognition for our commitment to IT, cloud and telecom services," said CFO Brent Allshouse of Platte River Networks. "We expanded our telecom division over three years ago in order to provide our customers with full technology services and the results have been tremendous. Not only can we provide better overall service to our clients but we have seen network performance, connectivity and uptime all improve."
In past 10 months, Platte River Networks has been honored as the Small Business of the Year by the Denver Metro Chamber of Commerce, Top 10 Best Places to Work by the Denver Business Journal and Top Cloud Provider for the 10 state western region by the world's largest technology distributor, Ingram Micro; this marks the second year in a row that Platte River Networks has won Top Cloud Provider.
About Channel Partners Magazine
Channel Partners magazine is the leading publication for telecom and IT distribution channels. For more than 25 years, Channel Partners has been the undisputed leader in providing news, analysis and education to the indirect sales channels serving the business technology and communications industry. In addition, Channel Partners online (http://www.channelpartnersonline.com) delivers a constant content stream of unique and breaking industry news, feature articles and premium downloadable content. As official media of the Channel Partners Conference and Expo (http://www.channelpartnersconference.com), Channel Partners is the market leader that channel professionals turn to first.
About VIRGO Publishing
VIRGO (http://www.vpico.com) is an information distribution company focused on some of the world's most innovative and complex business-to-business markets. Our mission is to help business professionals break through the hype, ambiguity and information deluge they experience, by offering trustworthy guidance that fuels their results-driven information journey.
About Platte River Networks
For the past decade, Platte River Networks, a technology consulting firm based in Denver, CO, has provided complete IT services for small to mid-sized businesses throughout both Colorado and the nation. Their expertise and work ethic has resulted in hundreds of diverse clients in all types of industries. Platte River Networks also provides complete telecommunication needs including voice/data circuits, bandwidth, VoIP, and low voltage cabling.
Website: http://www.platteriver.com.
Contact: David DeCamillis, Director of Business Development david(at)platteriver(dot)com 303-255-1941.