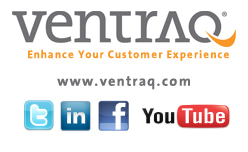 Winning an award from IBM, an industry leader in the system integration and IT space, is justification of our hard work.
St. Louis, MO (PRWEB) March 12, 2013
Ventraq, Inc. was named a winner of a 2013 IBM Beacon Award for Best Industry Solution for Telecommunications for their robust offering, Network Analytics Accelerator (NAA)—a single end-to-end view of the customer, network, services and handsets to help digital/communications service providers monetize their growing volume of network data by gaining detailed insight to quality of service, customer behavior and customer experience. This honor is awarded each year in recognition of a select number of IBM Business Partners who have delivered not only innovative solutions but have set the standards for business excellence, ingenuity, and creation of an exceptional client experience.
"Winning an award from IBM, an industry leader in the system integration and IT space, is justification of our hard work," said Gabrielle Taul, Senior Vice President global sales and marketing, Ventraq, Inc. "It is flattering that our analytics on the IBM platform are recognized at such a high level. IBM has been a wonderful support system and we are confident that this Beacon Award will help drive future success for the partnership."
The Beacon Awards are a vital element of IBM's Business Partner recognition program. Announced at the IBM PartnerWorld Leadership Conference in Las Vegas, Nevada and selected by leading industry influencers and IBM executives from among hundreds of nominations, IBM's Beacon Awards recognize IBM Business Partners who have demonstrated business excellence in delivering IBM-based solutions resulting in client transformation and business growth. This year's awards recognized Business Partner achievements across 30 award categories.
"Every day, IBM Business Partners around the world provide innovative solutions to their clients based on IBM products and services," said Mark Hennessy, General Manager, IBM Global Business Partners. "The winners of this year's Beacon Awards are Business Partners who not only delivered superior innovation through their award winning solution, but also offered unique client value by using their skills and expertise to deliver the business capabilities their clients need to achieve success in their own business ventures. We congratulate Ventraq, Inc. on winning the Beacon Award for Best Industry Solution for Telecommunications and demonstrating its ability to provide value by incorporating a solution that allows a rapid-deployment, data integration environment providing the scalability required to handle variations of business data for digital/communication service providers of all sizes."
For more information about the IBM Beacon Awards, including information about winners and finalists, please visit https://www-304.ibm.com/partnerworld/wps/servlet/ContentHandler/pw_com_prb_beacon.
To learn more about IBM PartnerWorld, a comprehensive program that offers marketing and sales resources, training, certification and technical support to help create new revenue and market opportunities for IBM Business Partners, visit http://www.ibm.com/partnerworld. To find an IBM Business Partner with a particular set of skills, a technology reseller or a consultant with industry expertise, visit the Business Partner Locator at: https://www-304.ibm.com/partnerworld/wps/bplocator/search.jsp.
About Ventraq:
Ventraq provides large-scale data integration and business analytics solutions such as revenue assurance, customer insight and network analytics for communication service providers (CSPs) around the globe. These solutions enable CSPs to integrate all their data sources, analyze the data to enhance their operational performance, make the data available for multiple users and systems across subscriber web-based self-care solutions for traditional and next generation communications. Learn more about Ventraq at http://www.ventraq.com.