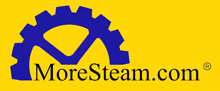 MoreSteam is the first training provider to offer online Lean Six Sigma courses entirely in German.
Columbus, OH (PRWEB) March 07, 2013
MoreSteam.com (http://www.moresteam.com), the leading global provider of online Lean Six Sigma (LSS) training and Blended Learning support technologies, now offers four German-language e-Learning training courses through its new online German-language Web site, http://www.moresteam.de. These four courses span introductory concepts to Practitioner-level materials in the area of process improvement. MoreSteam is the first training provider to offer these Lean Six Sigma courses entirely in German. MoreSteam.de also offers free German-language process improvement tools, templates and resources for all German-speaking professionals.
The past decade has witnessed a steady rise in the adoption of process improvement and continuous improvement methodologies in Europe. Whether due to economic conditions, the expansion of multinational corporations or to an increased awareness of the techniques in the business community, more working professionals who speak German as a first language are finding themselves in need of rigorous and cost effective Lean Six Sigma training. Up until the release of MoreSteam's online courses, German-speaking professionals have had no choice but to pay the high fees required by training consultants or the significant travel expenses required to reach distant training centers. Neither solution offers both convenience and affordability.
MoreSteam's online training courses provide businesses and students with a flexible and interactive learning portal available on-demand and in any location with an internet connection. The four German-language courses are Lean Methods Accelerator (18 hours of training), Lean Six Sigma Overview (four hours), Lean Six Sigma Yellow Belt (28 hours), and Lean Six Sigma Green Belt (80 hours). Lean (also referred to as Lean Methods or Lean Speed) is a set of tools developed to reduce the waste associated with the flow of materials and information in a process from beginning to end. Six Sigma is a comprehensive and flexible problem-solving framework that reduces defects and improves customer satisfaction to achieve, sustain and maximize business success. When combined together, Lean Six Sigma amplifies the strengths and minimizes the weaknesses of both approaches.
Organizations of all sizes rely on MoreSteam's high-quality, highly-interactive eLearning materials to build process improvement capability easily and reliably without great expense or disruption to the business. After completing initial training, organizations can choose to maintain the online materials as a long-term resource for refresher training. Lean Six Sigma corporate training leaders deploy MoreSteam's practice-based e–Learning courses with little to no setup, providing remote employees with full access to comprehensive, consistent and effective Lean training. Organizations can purchase and use these German e-Learning courses as standalone material or easily blend them with other onsite training activities like project management, leadership or simulated or live project experience.
These new German-language courses are delivered on-demand in a 100% online and self-paced multimedia format, complete with the quizzes, simulations, and practice exercises that engage students and reinforce the learning. The courses all use Microsoft® Excel for templates and examples. Outlines for these courses are available for viewing on the MoreSteam.de Web site: http://www.moresteam.de/lean-six-sigma/index.cfm. Individuals interested in any of these four courses can visit http://www.moresteam.de to learn more about the content, pricing and system requirements. Businesses can contact MoreSteam directly to register students, inquire about group discounts, and request course tours.
To support these online courses and assist its German-speaking customers, MoreSteam has also launched its first German-language Web site, http://www.moresteam.de. The site features online tutorials, company news, course and contact information and periodic live and recorded Webcasts. All posted materials are available free to the public, and visitors can subscribe to MoreSteam's monthly newsletter to learn about new materials and our European and German appearances.
About MoreSteam.com
MoreSteam.com is the leading global provider of online Lean Six Sigma training and Blended Learning technology, serving over 2,000 corporate clients and over 50% of the Fortune 500 with a full suite of Lean Six Sigma e-Learning courses, EngineRoom® data analysis software, TRACtion® online project tracking software, Crucible® online testing, and SigmaSim® online DMAIC simulations and games. MoreSteam.com was launched in the year 2000 in response to the high cost of traditional Six Sigma training and tools, and has now trained over 390,000 Lean Six Sigma professionals. MoreSteam's mission is to enable people to advance the performance of their organizations by delivering powerful tools for process improvement to the widest possible audience at the lowest price available.