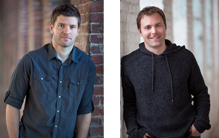 I find the spirit of unlimited potential within the Viewpoint Creative team an inspiration
Boston, MA (PRWEB) March 07, 2013
Internationally recognized creative services agency, Viewpoint Creative, has recently promoted Ted Roberts to Design Director and hired Jason Taylor as Art Director. Roberts came to Viewpoint by way of Digitas in Boston, and Taylor has skippered his own design and illustration business for the past seven years.
"Ted is a true pro and we are psyched to see how rapidly he has grown and become a central member and leader of our team," said General Manager/Exec Producer David Shilale. "Jason has fantastic brand and identity experience. He brings high level strategic thinking to every project."
Roberts has extensive experience in digital marketing and design working with brands ranging from Adidas to Coke. At Digitas he provided creative direction for Bank of America's Edge brand digital campaigns.
Per Roberts, "Viewpoint has been refreshing to me as a creative because of the amazing projects we get to work on and level of quality at which we produce. It's one of the most talented groups I've been a part of in my career and I'm very excited about the opportunity to take on an expanded role within the company."
While heading Jason Taylor Design, Taylor developed brands and created content for major theme parks including Universal's Islands of Adventure. He also strategized and designed packaging for Disney, Lucas Licensing and Yahoo!
Prior to running his own shop, Taylor was an art director for Hasbro Games where he launched and refreshed iconic brands like Sorry!, Parcheesi, and Heroscape.
"I find the spirit of unlimited potential within the Viewpoint Creative team an inspiration," Taylor commented. "I'm thrilled to now be a part of it."
"We are extremely excited to have two such talented people leading our design efforts," stated Michael Middeleer, Executive Creative Director for the company. "They bring loads of experience in motion graphics, broadcast and digital design, as well as product packaging."
Roberts and Taylor join a unique group of creative marketing and design professionals. Their ideas inspire emotional, entertaining and immersive screen experiences that motivate action and generate conversations between brands and their customers.
About Viewpoint Creative
Viewpoint Creative is a unique collective of creative individuals who together form a synergistic team of advertising, marketing and design strategists. Headquartered in Boston, MA the group combines words, images, motion and sound to illustrate and evoke an emotional and entertaining experience for its partners' brand and/or product. From concept to completion, Viewpoint Creative's focus is screen marketing. From big screen to small screen, mobile or online, these stories are told in a results-driven and engaging manner. Clients include ABC, ESPN, Disney, Hasbro, HBO, HGTV, Reebok and Staples.