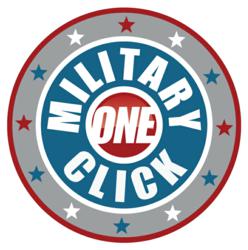 "We're basking in the glow of our victory and very grateful for the donation in support of our work! Thanks for your continuing support!" - Victoria Cameron-Lewis, United Through Reading, on winning MilitaryOneClick's December Charity Challenge
Washington, DC (PRWEB) March 05, 2013
In the third month of MilitaryOneClick.com's "Charity Challenge" the company has seen a 330% increase in participation, proving that the community is stepping up to show their support for these charities and the MilitaryOneClick website is really making a name for itself. For a company celebrating its two year anniversary this month, MilitaryOneClick is a certainly one to watch.
The challenge, developed by COO Kate Fosson, is a way for the MilitaryOneClick audience to take an active role in deciding who the company will make a donation to each month. "There are lots of great charities out there and we wanted to find a way for our fans to be able to participate in giving back to their favorites," says Kate. Each month the company selects three vetted non-profits to showcase in the challenge and promotes voting through social media platforms such as Twitter and Facebook. The charities are also encouraged to share the challenge with their supporters. This creates a sense of competition among the charities, but all in good fun. At the end of each challenge all of the charities who participated will be added to MilitaryOneClick's Giving Back page.
This month's charities are Achilles International "Freedom Team", helping wounded veterans participate in athletics; Military Child Education Coalition, ensuring educational opportunities for military children who are affected by mobility, family separation and transition; and Mid-Atlantic Bulldog Rescue, providing care and placement for surrendered bulldogs--operated by a military family. Learn more about these charities and vote for your favorite at militaryoneclick.com/charity-challenge-february . The February Charity Challenge has been extended to run through Thursday, March 7th, after which a new group will be chosen for March.
Past winners of the challenge have included Our Military Kids and United Through Reading.
"We pride ourselves on being a no login, no password site," says founder, Jen Pilcher. "It is important to us to embrace the military and community connection and make our site easily accessible to everyone. With sequestration now a reality, military families will need the support of the community more than ever and we are honored to promote the best resources for those who deserve the best."
In 2011 MilitaryOneClick was named one of Inc. Magazine's Top Military Start Ups and the company has been growing ever since. Over the past two years MilitaryOneClick has developed strategic partnerships with the White House Joining Forces Initiative, US Chamber's Hiring Our Heroes Program, SCORE e-mentor program, and most recently the first military spouse owned company to become a partner of the Department of Defense Military Spouse Employment Partnership Program.
Along with these partnerships MilitaryOneClick also works with companies and organizations who support the military and their families with opportunities such as jobs, education, military discounts, and moving- companies like MetLife, Sittercity, ProTrain, Lincoln Military, and Military Traveler to name a few.
MilitaryOneClick is a federally registered woman-owned business that is run by a team of military spouses who know what military families need. "We work hard," says Pilcher, "but we are all working 100% for military service members, veterans, and their families."
The company's goal is to become a household name in the military community by building the most comprehensive collection of resources for military families, and it is quickly becoming a reality. MilitaryOneClick is now reaching millions around the world through its website, social media outlets and other community outreach programs.
If you are interested in nominating a charity for the challenge please contact Rose [rose(at)militaryoneclick(dot)com]. For any other questions, comments, or sponsorship inquiries please contact support(at)militaryoneclick(dot)com