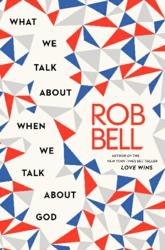 (PRWEB) March 06, 2013
Rob Bell, pastor and bestselling author, will appear at a live, globally streamed event on March 12, 2013 at 7:00pm ET from powerHouse Arena in Brooklyn, NY. During the event, Bell will discuss the follow-up to his explosive New York Times and international bestseller, Love Wins—his new book, What We Talk About When We Talk About God (HarperOne; March 12, 2013; Hardcover; $25.99).
In What We Talk About When We Talk About God, Bell does for the concept of God what he did for heaven and hell in Love Wins. He shows how traditional ideas have grown stale and dysfunctional and how to return vitality and vibrancy to lives of faith today.
Using his characteristic evocative storytelling to challenge everything we think we know about God, Bell tackles misconceptions about God, showing how God is not being left behind but is actually ahead of us, pulling us all forward into lives of greater fullness and vitality. God is both with us and for us, and these truths can change the entire course of our lives.
On March 12th, stream the event live at http://www.robbelllive.com.
To learn more about attending the event in Brooklyn, visit http://powerhousearena.com/events/book-launch-what-we-talk-about-when-we-talk-about-god-by-rob-bell/.
Rob Bell will go on tour to six additional U.S. cities following his New York appearance. The dates and cities are:
Nashville, TN—March 14
San Francisco, CA – March 17 - 18
Denver, CO—March 19
Portland, OR—March 21
Seattle, WA—March 22
Los Angeles, CA – March 26
# # #
What We Talk about When We Talk about God
By Rob Bell
HarperOne, an Imprint of HarperCollinsPublishers
March 12, 2013 | $25.99 | Hardcover | ISBN: 9780062049667