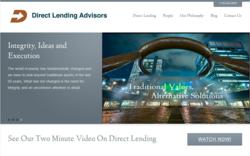 The extraordinary growth of the asset class has driven increasing institutional interest and led us to look for an addition to our leadership team with extensive experience working wth these investors.
Oceanside, CA (PRWEB) March 08, 2013
Dick Keller spent the last twelve years at Brandes Investment Partners where he was instrumental in the growth of their mutual fund business from its earliest stages to over $15 Billion in AUM. Prior to Brandes, Dick Keller spent over 20 years in various senior positions with Securities Pacific Bank (now Bank of America) rising to the position of Executive Vice President and Chief Credit and Risk Officer. During his distinguished banking career at Security Pacific, Dick Keller was Head of Latin America and Deputy Head of Asia Pacific operations.
Dick Keller joins Direct Lending Advisors as Chief Marketing Officer to build on the firm's successful launch of the Direct Lending Fund I, a near cash alternative credit fund. His chief role will be to grow awareness amongst the advisor and institutional investor community for this strategy. Dick comments "The most serious challenge facing all investors today is how to generate meaningful cash yield while protecting principal. This was an issue for me personally and Direct Lending Advisors has developed one of the most attractive solutions I have seen to address this issue. I look forward to bringing this solution to a wider range of prospective institutional and HNW investors."
Howard Freedland, Founder and Manager of Direct Lending Fund I said "The extraordinary growth of consumer direct lending and the increasing demand for short duration cash generating yield investment alternatives from institutional and HNW clients led us to look for an addition to our senior leadership team with extensive experience working with these investors. Dick Keller's wealth of experience and industry relationships has already made him a key addition to the Direct Lending Advisors family. His commitment to personally invest in our DLF Fund and join our team will help us reach our goal of becoming a leading investment manager in this emerging asset class. We are very fortunate to have someone of Dick's caliber playing a key role in the growth of our firm."
About Direct Lending Advisors
Direct Lending Advisors, LLC is focused on the rapidly growing consumer direct lending market. Direct Lending Advisors launched the Direct Lending Fund I in June 2012 to address the demand for high yield, short duration income alternatives from institutional and HNW investors. Direct Lending Advisors offers investors pooled investment vehicles and separately managed accounts to address their requirements. More information on Direct Lending Advisors can be found on our website at http://www.directlendingadvisors.com.