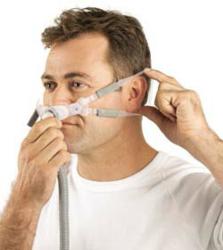 Houston, Texas (PRWEB) March 06, 2013
Sleep Restfully is pleased to announce that they have received a stock of the latest CPAP therapy mask manufactured by ResMed. The Swift FX Bella Gray gives patients using the Swift FX Series an extra choice that's simple, fast and easy to fit. It features a one-of-a-kind, minimal design with exclusive dual-wall nasal pillows and Bella loops to provide a stable yet gentle seal, customized fit and soft feel for personal comfort. The Swift FX Bella Gray gives the user a sense of freedom while they sleep.
The Swift FX Bella Gray gives the user the option of Swift FX headgear or exclusive Bella loops offering different ways to wear the mask, depending on personal style and comfort preference. It is easy to fit to any user and has minimal parts. The Swift FX Bella Gray is known for its exceptional softness, simplicity and stability and eliminates the bulk associated with other sleep therapy mask.
Some of the major advantages of the Swift FX Bella Gray over other CPAP mask are:
Comfortable fit, flexible form:

Ultra-smooth 360° rotating elbow rotates with easy, fluid movement for flexibility in tube positions
Spring-flex lightweight tube stretches and bends uniquely for increased stability without the use of a tube retainer
Gentle therapy, stable seal:

Dual-wall nasal pillows seal on contact for a gentle, comfortable seal
Soft, narrow cushion with integrated flexible chamber makes side sleeping comfortable and maintains seal during movement
Quiet vents diffuse and direct airflow quietly away from the user and bed partner
Optional Swift FX headgear:

Soft silicone headgear embraces the face gently and needs minimal adjustment
Soft wraps provide extra defense against facial marks
Simple headgear buckle has clearly marked notches for easy adjustment
Low-profile backstrap with Velcro fasteners
With its unobtrusive design and sophisticated cushion technology, Swift FX Bella Gray nasal pillows provide a comfortable fit with a feeling of freedom for men and women.
Sleep Restfully's attention to detail when it comes to customer service and their low cost sleep therapy and oxygen equipment and supplies make this ecommerce business a rarity in today's web based business setting.
Sleep Restfully, Inc. places customer service and satisfaction as its highest priority to sleep therapy and oxygen customers. Sleep Restfully, Inc. believes that they are second to none in customer service, which is reflected in their decades of experience and their Better Business rating of "A". Sleep Restfully carries a complete line of sleep therapy supplies and equipment from the best manufacturers in the industry, such as Resmed, Philips Respironics, Fisher & Paykel, and others. In addition to CPAP machines and supplies, Sleep Restfully specializes and carries portable oxygen concentrators. Sleep Restfully offers the best support and prices on portable oxygen concentrators such as the Respironics SimplyGo, Respironics EverGo, Sequel Eclipse 3, Inogen G2, Invacare XPO2, and more. Stationary oxygen concentrators are also carried, such as the Respironics EverFlo and Invacare Perfecto.
Sleep Restfully stocks all replacement parts for CPAP machines, CPAP masks, and portable oxygen concentrators.
Contact Sleep Restfully, Inc. today toll free at (866) 923-2727 or by visiting http://www.sleeprestfully.com.