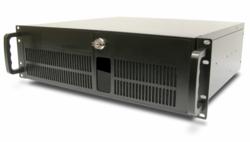 In environments where noise level is critical, nothing is quieter than this ultra quiet 3U rackmount chassis.
Ronkonkoma, New York (PRWEB) March 06, 2013
This supremely designed chassis has the largest functional capacity for a system its size coupled with nearly silent operation.
Ultra-quiet, compact and adaptable, this is ideal for workstation, home theater and DVR applications.
Though only 3U high, and 16 inches deep, it supports up to five removable drives, a slim optical drive, and three internal drives.
Nearly Silent Operation:
In environments where noise level is critical, nothing is quieter than this ultra quiet 3U rackmount chassis.
To keep hard drives healthy and cool, three unique internal mounts suspend them in the path of fresh air flowing through the system- add to this an ultra-quiet fan and a "silent" power supply. If not for the power LED, you would have to put your ear right next to this system to tell if it were on. It features an "Ultra Quiet" case fan. Even at maximum speed, this amazing fan runs below a whisper at only 24.7 dBA. But, when throttled by the system board, it will cool the system inaudibly, below 10 dBA. Coupled with a "silent" Seasonic power supply, rated at only 22 dBA, this system is among the quietest available.
This small chassis supports any micro-ATX board and up to four full length PCI cards. There are two USB 2.0 ports on the front IO panel. The lockable door protects drives and controls, and opens wide enough for any style removable drive. Mounting for a vertical slot-loading slim optical drive is standard, freeing up valuable space for other devices. The standard system comes with two 5.25" bays, and one 3.5" bay, but many other combinations are possible.
Customize the chassis with six removable panels for additional IO or silkscreened logos.
Smart Add-On Options:
1) Removable Air Filter Kit:
2) Five-Bay Drive Cage: drive accessibility on its side, allowing you to mount up to five removable drives without sacrificing space for an optical drive. It is perfect for server management, and large-capacity DVR applications.
3) Drive Bay Cooler: If your removable drive frames lack built-in fans, consider the life-extending benefits of a drive-bay cooler, forcing cool air through the bays, keeping your hard drives cool.
Drive Bay Configurations and adaptability:
The standard chassis is equipped with two 5.25" bays and one 3.5" bay. But, many other combinations are possible when "low-profile" (30mm high) 5.25" bays are used. All configurations below include room for a vertically mounted, slot loading, slim CD/DVD drive:
A) Two 5.25" bays, One 3.5" bay
B) Two 5.25" bays, One Low-Profile bay for removable hard drive
C) One 5.25" bay, Two Low-Profile bays
D) Four Low-Profile bays
E) Five 3.5" bays
F) Up to 5 Removable 3.5" Drives
The 3U Quiet Micro ATX Chassis is the latest in a new series of brilliantly designed adaptable chassis that General Technics is now offering. (gtweb.net)
Press Contact:
Jennifer Millen
General Technics, Inc
jen(at)gtweb(dot)net
1-800-487-2538
Gtweb.net