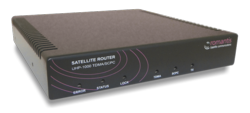 With release of UHP 3.0, UHP technology has confirmed its most advanced status with industry-fastest satellite router and world-smallest TDM/TDMA Mini-Hub that fits in the palm of your hand, but can support over 2,000 terminals with sophisticated QoS.
(PRWEB) March 07, 2013
Romantis, a global provider of satellite capacity and satellite networking equipment, announced today that it has released UHP 3.0 software upgrade for its Universal Hardware Platform (UHP).
UHP 3.0 is the latest generation of high-throughput, universal UHP VSAT platform with increased performance, advanced Quality of Service (QoS) and multi-profile operations. The latest software release takes to the next level the trademark UHP benefits such as its unparalleled versatility, scalability and industry-best cost of ownership. With release of UHP 3.0, Romantis UHP technology has once again confirmed its most advanced status with industry-fastest satellite router capable of processing 60,000 packets per second and world-smallest advanced TDM/TDMA Mini-Hub that fits in the palm of your hand, but can support over 2,000 terminals with sophisticated QoS.
UHP 3.0 software features:

Enhanced performance of UHP satellite router ensures up to 60,000 packets per second and up to 150 Mbps aggregate throughput.
Increased number of supported TDMA Inroutes (up to 254 per network), including Fast-Hopping MF-TDMA and TCP/IP acceleration.
Extended number of supported Terminals (up to 2,040 per Inroute or above 500,000 per network).
New advanced traffic management capabilities: Group Hierarchical QoS, Traffic Policies and Hierarchical 680-channel Traffic Shaper.
Cutting-edge adaptive technologies combining automatic Transmission Level Control (TLC) and DVB-S2 Adaptive Coding and Modulation (ACM) available both for TDM/TDMA networks and SCPC channels.
Multi-profile operations with dynamic switching between different configuration settings and/or modes of operations, including TDM/TDMA, SCPC and Hubless TDMA.
Streamlined web interface with enhanced management capabilities providing easy and intuitive commissioning and operating of UHP routers.
Retains core features of UHP satellite router such as seamless support for Mesh TDMA, second demodulator, low (under 10W) power consumption and ultra-fast (under 15 seconds) start-up.
These new features of UHP 3.0 software demonstrated virtually unlimited capabilities of the award-winning UHP product. This software could be easily installed on any of the previously-shipped UHP routers. It will unlock many new useful features as well as enhance performance by more than 200%, will grow number of supported terminals by a factor of 70 and will greatly increase the network efficiency and reliability due to the advanced adaptive technologies.
Innovative technologies of Romantis have already proved its efficiency and reliability in about 80 networks deployed worldwide. UHP 3.0 software release opens up amazing opportunities for all existing and prospective customers of Romantis.
To learn more about UHP 3.0 ground-breaking technology for IP networking over satellite please visit http://www.romantis.com/en/vsatproducts
About Romantis:
Romantis is a vertically integrated group of companies with operations worldwide. It is a major value-added reseller of satellite capacity and a manufacturer of satellite networking products. The Group manages more than 600 MHz of full-time satellite capacity around the world offering permanent and occasional use bandwidth. Romantis designs, produces and markets the innovative UHP product – the industry's first fully software-defined satellite router that can be used within networks of any size either as a hub or a remote and supports any topologies and modes of operation.