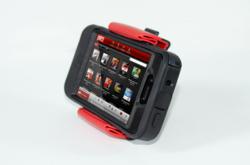 We created itFits to be your extra hand to keep your smartphone within reach without the fuss.
Long Branch, NJ (PRWEB) March 05, 2013
itFits, a unique smartphone accessory, only has one day left on Kickstarter. This is more than an ordinary phone gadget because it combines three products in one. itFits flexes, stands, hooks, and hooks however users need it to, making itFits the universal smarter smartphone accessory. And with only 24 hours left to fund, itFits needs help.
itFits flexes to accommodate smartphones of all shapes and sizes, for everything from an iPhone, to an Android, to a Blackberry. "Nowadays, everyone has their phones on them 24/7," says co-creator Nancy Scala. "That is why we created itFits to be your extra hand to keep your smartphone within reach without the fuss." Since the rubber arms stretch to fit phones with or without cases, itFits comes in a variety of colors that will match any phone color or Otterbox case.
What sets itFits apart is that it encompasses three products in one affordable phone accessory. The patent-pending functional hands-free design of itFits allows it to stand on a desk, hook to a car visor, or hook to a computer screen. Whether used to watch movies on a plane, follow directions on a road trip, or for multitasking, itFits effortlessly fits any smartphone user's life.
With only one day left in their Kickstarter campaign, itFits needs help to meet their goal. Consumers can buy their itFits for $15 on Kickstarter, which is 20% off the retail price. Visit Kickstarter to get yours now, http://bit.ly/itFitsKS. Remember, the Kickstarter campaign will end March 6, at 3:57pm EST, so don't wait to get your itFits!
About itFits
itFits is a new startup dedicated to making your life easier with tech accessories. Their latest product, itFits, is a smartphone accessory which serves as a stand, recliner and hook for almost any phone on the market today. For more information on itFits, visit http://www.itfitsyourlife.com, Like them on Facebook at http://www.facebook.com/itfitsyourlife and Follow them on Twitter at http://www.twitter.com/itfitsyou.