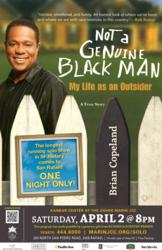 "Copeland's ability to captivate an audience rivals many a celebrated solo predecessor from Ruth Draper to Spalding Gray to Whoopi Goldberg…Copeland is a GENUINE discovery."—Los Angeles Times
San Rafael, CA (PRWEB) March 07, 2013
The Kanbar Center for the Performing Arts is delighted to bring the longest running solo show in San Francisco history, Brian Copeland's, "Not a Genuine Black Man", to Marin County audiences. A unique opportunity to see this hit show on this side of the Golden Gate before the show's next incarnation, currently in the planning stages, a performance film for DVD and cable television to be shot next fall.
Directed by David Ford, the show will play for one night only, Saturday April 13, 2013 @ 8pm in the Hoytt Theater at the Osher Marin JCC, 200 N. San Pedro Rd. San Rafael.
"In 1972, the National Committee Against Discrimination in Housing Called San Leandro, California 'a racist bastion of white supremacy'. It was named one of the most racist suburbs in America. CBS News and Newsweek covered the story. The U.S. Commission on Civil Rights conducted hearings. And then, we moved to town." So writes Brian Copeland in his first solo show, Not A Genuine Black Man, revealing a little-known chapter of Bay Area history. In a monologue that's both funny and poignant, Copeland explores how surroundings make us who we are.
WHAT: Brian Copeland's One Man Show: "Not A Genuine Black Man"
WHEN: April 13, 2013 @ 8pm
TICKETS: $25 in adv/ $30 day of
For tickets, visit marinjcc.org/arts or call 415.444.8000
WHERE: The Osher Marin JCC, 200 North San Pedro Road, San Rafael.
PARKING: Ample free parking. Accessing the Osher Marin JCC
from Highway 101 is effortless, 1/2 mile E off 101.
Copeland's memoir based on the show is now available nationwide. It received high critical acclaim from, among others, Publisher's Weekly, People, Ebony and The Boston Globe while reader reviewers on Amazon.com are calling it "The best book I've ever read." It was chosen as the 2009 selection for Silicon Valley Reads, a library sponsored program that encourages all Silicon Valley residents to read one book at the same time and engage in community wide discussions on its relevance. It is widely used in school and college courses. For more information on Copeland, please visit his website at http://www.briancopeland.com.
"Copeland's ability to captivate an audience rivals many a celebrated solo predecessor from Ruth Draper to Spalding Gray to Whoopi Goldberg…Copeland is a GENUINE discovery."—Los Angeles Times
"…a beautiful mix of wry humor and heartbreak, indignation and inspiration, a singular story of extreme isolation that speaks to anyone who's ever felt out of place.
"—SF Chronicle
"engaging…Copeland knows how to spin a dramatic yarn."—New York Times
The Kanbar Center for the Performing Arts is the Performing Arts Department within the Osher Marin Jewish Community Center in San Rafael, California.  For over 20 years we have spread the power of music, voice, humor, taste, culture, movement and words throughout the community by presenting classical music, club style dancing events, comedy, musical concerts, theater and performance in the grand Hoytt Theater, lectures. chats and demonstrations in the Kurland lounge and great world music & dancing for all ages outdoors under summer skies on Swig Field.  All are welcome; no membership is required to attend.  The Center is a long-standing Marin non- profit, centrally located in Marin County and just 1/4 mile east off Hwy 101
Kanbar Center Upcoming Events
5/25/13  An Evening with PAULA POUNDSTONE at Angelico Hall, Dominican University of Ca.
6/22 – An Evening of Jewish Humor with Andy Kindler & Cathy Ladman
7/13 – Hot Buttered Rum
7/20 – Rupa and the April Fishes
7/27 – Hapa
8/3 – LoCura/ Los Pinguos
8/10 – Andrea Thierry & Zydeco Magic