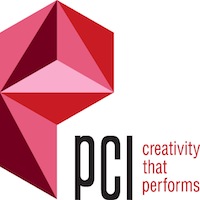 Alexandria, VA (PRWEB) March 05, 2013
PCI Communications, a leading provider of branding and marketing services, launched its own new brand today. The comprehensive brand refresh is meant to capture the company's evolution as a "marketing + creative production agency" poised to deliver even more national-level campaigns for commercial, government, and not-for-profit clients.
The rebranding includes a new logo, new tagline, new website, and new suite of marketing materials. Even the entrance to PCI's DC-area headquarters received a new branded treatment. The new logo – dubbed the "prismagraph" – is a distinctive geometric shape that suggests the multi-dimensional nature of PCI's services as well as the "P" of PCI. But, as PCI reminds its clients, the new brand is meant to encompass how the agency behaves as well as how it looks.
"It's a different way of thinking about ourselves and the value we represent to clients," explained PCI President and CEO, Robert W. Sprague. "Our new tag, 'creativity that performs,' expresses the creative thinking and artistry that we've always tried to bring to our clients, along with a new emphasis on their results and success."
The new website at http://www.pcicom.com, built entirely in-house, is a showcase for client case studies as well as a portal for content generated by PCI's team. It is dynamically programmed to work equally well on all computers and mobile devices.
"The rebranding involved everyone in the shop in one way or another," added Sprague, "and I'm very proud that the team came up with something that is authentic, distinctive, and a great demonstration of PCI's branding capabilities."
About PCI: PCI is a marketing + creative agency based in Washington, DC with regional offices in New York City and Nashville, Tenn. The firm provides branding, communications strategy, market research, public relations, crisis/reputation management, and social media strategy, as well as the award-winning creation of video, graphic design, websites, digital and interactive products, and live events. In business for more than 27 years, PCI has won more than 150 industry awards for creative excellence. For more information, case studies, and samples, or to request a meeting, proposal or quotation, visit PCI's website at http://www.pcicom.com.