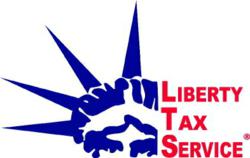 "The IRS is still advising taxpayers that the best way to file an accurate return is to e-file. If taxpayers need more time to finish their returns, Liberty Tax can easily get a six-month tax-filing extension by filing Form 4868 for them,"
Virginia Beach, VA (PRWEB) March 05, 2013
Liberty Tax Service is now filing all remaining individual and business 2012 federal income tax returns. The Internal Revenue Service announced that it has finished updating, reprogramming and testing its tax-processing systems over the weekend and can accept all returns.
The American Taxpayer Relief Act, enacted by Congress in January, created the need for critical adjustments to the IRS systems. In order to accommodate Congress' last-minute maneuver, the IRS had to accept 2012 returns in stages as it updated various forms and instructions. The first stage – and the largest group – could file at the end of January. The second stage could file in the middle of February, leaving the remaining taxpayers left to wait. For those claiming residential energy credits and other business tax credits and deductions, the wait is now over.
"The IRS is still advising taxpayers that the best way to file an accurate return is to e-file. If taxpayers need more time to finish their returns, Liberty Tax can easily get a six-month tax-filing extension by filing Form 4868 for them," says Martha O'Gorman, Chief Marketing Officer for Liberty Tax Service.
About Liberty Tax
Founded in 1997 by CEO John T. Hewitt, Liberty Tax Service is the fastest-growing tax preparation franchise ever. Liberty Tax Service has prepared over 10 million individual income tax returns to date. Liberty Tax Service and its nationwide network of over 30,000 tax preparers are ready to offer their assistance at any time.
According to the International Franchise Association's Franchise Business Economic Outlook, the number of franchise units in the United States declined from 2009 until 2012. Currently there are approximately 27,000 fewer total franchise establishments operating in the United States than there were in 2008. (774,016 in 2008 compared to 746,828 in 2012). In spite of this downward trend, Liberty Tax Service increased its number of locations from 2,695 in 2008 to 4,183 in 2012.
Liberty Tax Service stands behind community enrichment efforts by sponsoring various non-profit organizations and urging their employees and franchisees to give back to their communities. To extend that community support, Liberty also offers an online tax service, eSmart Tax, which enables some to do their own taxes wherever there's a computer. eSmart Tax is backed by the tax professionals at Liberty Tax Service and its nationwide network of over 30,000 tax preparers, ready to offer their assistance at any time.
For a more in-depth look at Liberty Tax Service, visit http://libertytax.com or the Give Me Liberty! Magazine. Follow Liberty Tax on Facebook at http://facebook.com/LibertyTax and on Twitter at http://twitter.com/libertytax or check the blog at http://libertytax.com/taxlounge or contact Liberty Tax directly at 1-877-at-Liberty.
###