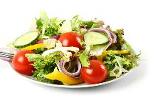 Keeping salads light and healthy isn't just good for weight loss. It's also good for maintaining a healthy weight.
Canoga Park, Ca (PRWEB) March 05, 2013
When dieters are watching their weight, grabbing a salad for lunch or dinner seems like a safe bet. But doctors at 101 Medical Weight Loss say weight loss plans can be derailed by fat-laden salads that are assumed to be light fare. They recommend avoiding the following common pitfalls to make the healthiest choices.
Feel free to load up on greens. In other words build a foundation of romaine lettuce, arugula, spinach, broccoli florets, asparagus, green peppers, cucumbers, scallions, and zucchini. Ingredients like these are the basis of any healthy salad.
While the foundation of a healthy salad is mostly green, it can be made even healthier with a rainbow of colors on top. These secondary ingredients include vegetables and fruits such as tomatoes, carrots, squash, corn, beets, red peppers, radishes, salsa, and mandarin oranges.
With the exceptions of onions and cauliflower, most white ingredients should be avoided because they are full of fat or simple carbohydrates. 101 Medical Weight Loss recommends skipping pasta, potatoes, croutons, coleslaw, sour cream, cheese or regular white salad dressings like ranch, Caesar, or blue cheese.
Choose lean protein that has been grilled or broiled such as salmon, chicken or shrimp. But avoid fat-laden protein toppings like fried chicken strips, popcorn shrimp, bacon, steak or heavy amounts of shredded cheese.
Some foods at the salad bar aren't exactly light, but could be healthy in moderation. When it comes to dried fruits, chopped nuts, avocado, diced egg, and olives, just a sprinkling will do.
Doctors at 101 Medical Weight Loss say a few other ingredients have cropped up at salad bars recently, but are not worth the calories - even in moderation. They say breadsticks, fried noodles, and tortilla strips have too few nutrients and too many empty calories.
Keeping salads light and healthy isn't just good for weight loss. It's also good for maintaining a healthy weight.
About 101 Medical Weight Loss:
For more than a decade, The Center for Medical Weight Loss has been helping people to shed unwanted pounds through physician-guided programs. The company is known throughout the San Fernando Valley area for uniquely meeting the needs of patients through personalized plans. 101 Medical Weight Loss operates on the belief that safe weight loss results from healthy food and lifestyle choices. But it provides the option of a prescription for a safe appetite suppressant when necessary. To discover what 101 Medical Weight Loss can do for you, visit http://www.101medicalweightloss.com.