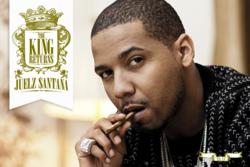 Boston, MA (PRWEB) March 06, 2013
March 5 2013 - Karmaloop.com, the leading web retailer for urban clothing and streetwear, today announced the publication of its 2013 Lookbook, "Karmaloop Spring '13 Lookbook: The King Returns ft. Juelz Santana." Featuring new products from many of its top street style brands, the lookbook can be viewed at http://streetwear.karmaloop.com/klcontent/lookbooks/juelz-santana.
"We're excited for Karmaloop fans and customers to see what we've got in place for 2013," said Greg Selkoe, Karmaloop's founder and president. "The street fashion industry is exploding with talent right now, and in our 2013 Lookbook you'll get a sneak peak at some of the hottest urban fashion on the market."
The 2013 Lookbook features a photo shoot with rapper Juelz Santana, wearing Karmaloop brands that include Staple, Crooks and Castles, Billionaire Boys Club, Vans, Nudie Jeans, FLuD Watches, 10 Deep, Mitchell & Ness and Fila. The lookbook also features pieces from Slowbucks, Juelz Santana's own brand, which will soon be available at Karmaloop.com.
"We chose Juelz to present our top 2013 looks because he brings it all together," said Selkoe. "He's a musician, actor, producer and now, a hip hop clothing designer with his own label."
Best known for his solo recordings and his work with the Harlem-based hip hop group Dipset, Juelz Santana recently released his highly anticipated mixtape, God Will'n. On this latest recording, the Harlem native features fellow rappers Jadakiss, Rick Ross, Meek Mill, Lil Wayne, and Jim Jones.
About Karmaloop.com
Karmaloop.com is the leading online retailer for global urban fashion and streetwear, with more than $130 million in annual sales. Karmaloop receives more than 4.5 million unique visitors from 40 countries each month, and retails more than 500 brands designed for the "Verge Culture" -- a multicultural demographic that is 18 to 34 years-old and often referred to as the first generation that grew up with the Internet. Founded in 2000, the Karmaloop family of websites today includes the internet television station KarmaloopTV, the women's fashion site MissKL, the menswear boutique Boylston Trading Company, the flash-sale site PLNDR, the online skateboard retailer Brick Harbor, and the independent marketplace Kazbah.
# # #