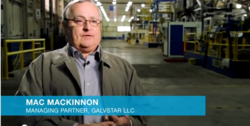 Buffalo, NY (PRWEB) March 07, 2013
Buffalo Niagara Enterprise (BNE) is announcing the release of their newest business attraction video that focuses on why the Buffalo Niagara region is conducive to advanced manufacturers. The video features Galvstar LLC, a steel galvanizing company and prior BNE win that chose to locate their steel coating line in the former American Axle facility on Buffalo's east side.
In the video, which is part of the BNE's "A Million Reasons to Expand Your Business to Buffalo Niagara" marketing campaign, Galvstar Managing Partner Mac MacKinnon discusses many of the regional assets that were important factors in choosing our community. Among those factors were our region's business friendly culture, proximity to major markets supported by an advanced logistics and distribution infrastructure and cost-effective electricity from access to low-cost hydropower.
MacKinnon also emphasized the tremendous talent base available in the region, stating, "I've worked in plants all over the United States, India, and South Africa. This workforce here is amazing." The Gavlstar video, produced by First & Main Media, can be viewed at http://youtu.be/ByvT-x9vVPY.
As part of their 2012-2013 strategic plan, BNE identified advanced manufacturing as a key sector to commit marketing resources to this year. In addition to the Galvstar video, a new advanced manufacturing mini-site was also formally launched this week that can be found on BNE's home page or by going to http://www.Buffaloniagara.org/AdvancedManufacturing. At the new mini-site viewers will find a comprehensive collection of economic development tools and marketing collaterals that will assist manufacturing companies exploring investment opportunities. Information ranging from real estate and incentives to workforce and market demand can found at the new site.
"The potential that exists and the impact of the results have me convinced that manufacturing will be an important part of our future economic success," said BNE President & CEO Thomas A. Kucharski. "The direct and indirect impact of manufacturing projects on a community tends to be very significant, as evidenced by our history of results in this sector," Kucharski added.
Since their inception BNE has supported 89 advanced manufacturing project wins that have created and retained over 12,000 jobs while investing more than $1.4 billion in our region. The direct and indirect economic impact from only 12 of these projects that have come to the community since 2010 is $607.9 million.
BNE is not alone in recognizing the great potential for advanced manufacturing and advocating that the region attempt to capitalize on the "manufacturing moment" that is occurring. Advanced manufacturing is one of six key strategies in Governor Andrew Cuomo's billion dollar commitment to Buffalo. It will be supported by the development of the state-of-the-art Buffalo Niagara Institute for Advanced Manufacturing Competitiveness. The institute will focus on applied research services and workforce training while providing export assistance and services to develop process excellence.
###
About Buffalo Niagara Enterprise - Buffalo Niagara Enterprise, a private, non-profit, marketing, business and economic development organization, is the point of contact for business attraction and investment in the eight counties of the Buffalo Niagara region. Working with local economic development groups, real estate & development professionals, governmental agencies, utilities and private sector business leaders, BNE assists businesses seeking to re-locate or expand in our region with access to the various incentives, financing, site selection and other services relevant to their project. For information on doing business in Buffalo Niagara, visit http://www.buffaloniagara.org.