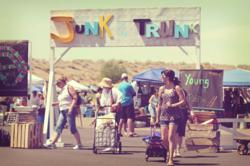 "One lucky shopper will win a unique designed space!"
Scottsdale, Arizona (PRWEB) March 07, 2013
Junk in the Trunk Vintage Market Event will take place in the big tent at WestWorld in Scottsdale, Arizona, April 27, 2013. New for 2013, with the purchase of an entry ticket, shoppers will be entered into a drawing to win one of three unique design spaces. Junk in the Trunk's very own director of design, Chantelle LeFrancois, will be crafting spaces for shoppers to be inspired by before entering the market. During the day, one lucky shopper will be able to take their pick and take home all of the items inside. In addition, the first 300 shoppers through the door will receive a Junk in the Trunk Vintage Market reusable shopping bag.
The girls from Junk in the Trunk Vintage Market are thrilled to bring over 70 of Arizona's unique and creative vendors. With a focus on creating beautiful spaces with unique treasures, attendees are sure to find something they can't live without. From all things chippy, rusty, vintage and handmade, shoppers may find that perfect vintage dress, a one-of-a-kind piece of antique furniture, handmade jewelry, or another treasure for their home or garden. There will be fabulous live music, food and infinite amounts of design inspiration.
Early entry is $10 for adults and lasts from 8:00-9:30 am. This will be Junkers' chance to get first crack at all the sweet vintage finds. General Admission begins at 9:30am and is $5 for adults while children under 12 are free all day. The vintage market will be open until 3pm. A portion of all ticket sales will help support Young Life of Paradise Valley and Scottsdale. Young Life is a non-denominational Christian organization that reaches out to adolescents in the greater north Phoenix and Scottsdale area through caring adults that spend time with youth in order to empower them to see that their lives have great worth, meaning and purpose. Please bring cash as not all vendors accept credit.
About Junk in the Trunk Vintage Markets:
Junk in the Trunk Vintage Markets was born from the idea that the greater Phoenix area needed a bit more junk in their trunks. Two girlfriends, Lindsey Holt and Coley Arnold, who enjoyed the pursuit of finding that perfect vintage piece and sharing home décor ideas, felt there was a lack of a community and opportunity for local Arizona Junkers. A vacation in the summer of 2011 was the starting point of Junk in the Trunk Vintage Markets. They found themselves junking their way north from Spokane, WA up through the Rocky Mountains of Alberta. After returning from their trip, they set out to launch their vision. The first vintage market took place in the backyard of a north Phoenix residence in September of 2011. With much success, they started to feel like there was an interest in having a truly unique vintage market, one that people could put on the calendar every year and look forward to. Out of this desire, their upcoming events will provide an amazing line up of local vendors, a world class venue and an opportunity for one lucky shopper to win a unique designed space.
For more information on the upcoming events and for details on how you can become a vendor, please visit http://www.junkinthetrunkvintagemarket.com.