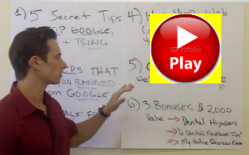 "The internet is a complex field, and unfortunately, there are many so-called online marketing companies who take advantage of the dental professional" said Graig Presti, CEO of LocalSear
Chicago IL (PRWEB) March 07, 2013
In a society that is become increasingly more internet-focused, it's common for most business owners—especially dental professionals—to receive offers from SEO, website, and internet marketing companies who guarantee top listings in search engines. Unfortunately, many of these companies promise results that can't be delivered, costing dentists thousands. LocalSearchForDentists.com's scam prevention program has a revolutionary system that caters to dental practices to help protect them from being scammed out of money for consulting and internet marketing services.
"SEO and local search is a complex field, and unfortunately, there are many so-called online marketing companies who take advantage of the fact that the average dental professional isn't an expert with online marketing," said Graig Presti, CEO of LocalSearchForDentists.com. "Our new scam prevention program was launched to help dentists get more results for their online marketing dollars, preventing them from spending money on internet marketing contracts that just don't provide results."
Unlike other internet marketing companies, LocalSearchForDentists.com specializes in creating custom online marketing campaigns specifically for dental professionals. Due to their industry focus, they are uniquely familiar with the marketing needs of dental practices and the strategies that produce the most profitable results for dental professionals. By providing a tailored online marketing plan specific to the dental industry, LocalSearchForDentists.com provides legitimate results for dental practices and prevents them from wasting marketing funds on other online marketing companies.
"After years of working with SEO, pay-per-click, and any other medium to help promote my website, I have finally found on that works best with Graig Presti and his team at LocalSearchForDentists.com," said Bob Gallien, a client of LocalSearchForDentists.com. "It was a perfect fit to get me where I wanted to be with Google and since working with them, I've doubled my practice."
Presti's program uses a combination of press releases, video testimonials and Google reviews to help dentists increase their presence in local search results, driving more consumers to their website and into their practice. In addition to increasing dentists' visibility in the search engines, LocalSearchForDentists.com is also dedicated to helping dentists maintain their excellent reputation throughout various online review sites for dentists.
For more information about Graig Presti's scam prevention program for dentists, or to read more reviews of LocalSearchForDentists.com, please visit http://www.LocalSearchForDentists.com and https://www.youtube.com/watch?v=Qqb8xYi6e3I