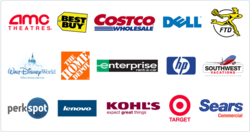 Professional individuals should be rewarded for their intensive efforts.
Washington, DC. (PRWEB) March 06, 2013
Entrepreneurs and professional individuals are caught up in the very challenging road to success. Although saving is a priority, they no longer have the time or energy to focus on getting the best deals for their personal and business needs, which creates a huge burden on their budget. Within this context, California State Business Network launches new discounts and benefits on a wide spectrum of products with major international and national retailers to support members in getting the products they desire at the best rate.
Members can access their discount network online and they can use it for either international or local retailers. Thousands of dollars go back to their wallets. Basically, members are treated as deserving and hard working professionals. They need quality products and services for their businesses and homes. With CA-SBN, they also get the best price.
As mentioned on http://www.castatebusinessnetwork.org, the discount network is a reward that members of CA-SBN are well deserving of. California State Business Network makes discounts available for a comprehensive range of products and services including apparel, electronics, travel, beauty, home wear, and many more. Here are some of the retailers featuring in the CA-SBN discount network:

HP is one of the most trusted organizations in the world for their high quality computer and electronic products. Members of California State Business Network enjoy up to 10% off on HP products.
Target, another prestigious retailer, offers $7 off on purchase exceeding $70. Members of CA-SBN can indulge in a great shopping experience and get the best products that Target has to offer at the best prices.
Shoes.com offers not only a 15% discount on their famous footwear, but also free shipping and other great benefits for members of CA-SBN.
Southwest Vacations offer an incredible 90% discount on their comprehensive vacation packages only to members of California State Business Network.
Lenovo products are available with 30% off for members of CA-SBN.
According to http://www.castatebusinessnetwork.org, members are invited to choose from thousands of preferred brands. The significant savings coming from discounts may be used in different ways, for business, pleasure, or emergencies. California State Business Network promotes saving as a means to handle the future in a stress-free and efficient manner.
For more information about the discounts and benefits available through California State Business Network, please visit http://www.castatebusinessnetwork.org.
About California State Business Network:
California State Business Network (CA-SBN) is a career and business development program established to promote job growth, commerce and networking. It is equipped with the tools, expertise and connectivity to help businesses expand their influence while forging strategic alliances necessary to attain higher levels of achievement. With its integrated infrastructure, CA-SBN holds a powerful online platform for building fundamental connections on a local, state and national scale.