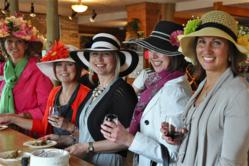 "Our wine tour is a great way to explore pairings and taste some of the finest cool-climate wines anywhere featuring classic vinifera like Riesling, Chardonnay, Pinot Gris and Pinot Noir."

Taylor Simpson of Good Harbor Vineyards
Leelanau Peninsula, MI (PRWEB) March 06, 2013
After a long winter, the wineries of the Leelanau Peninsula in Northern Michigan shake off the snow and celebrate the return of spring with the Sip & Savor wine tour. The event features wine & food pairings at 22 wineries on Michigan's largest wine trail, a tasting room certificate to purchase that special bottle of wine, and prizes in an optional hat contest.
"The wines of the Leelanau Peninsula pair so well with food, and this spring we will see the first of an exceptional 2012 vintage," says Taylor Simpson of Good Harbor Vineyards. "Our wine tour is a great way to explore pairings and taste some of the finest cool-climate wines anywhere featuring classic vinifera like Riesling, Chardonnay, Pinot Gris and Pinot Noir."
Wine tasting can be a little intimidating, but the Sip & Savor event is all about fun. The 'Sip-o de Mayo Hat Contest' gives a chance to win all kinds of prizes as you enjoy one of the most unique wine events in the country. In addition to prizes at each of our wineries, the fabulous Grand Prize will be awarded by the popular vote of all participants. The winner will receive two nights lodging during any season at The Homestead in the heart of the Sleeping Bear Dunes along with a pair of tickets to any LPVA Weekend tour or to the Traverse City Wine & Art Festival in June!
Spring is also about new growth and planting in the vineyards; a time to plan for the future. In 2013, the Leelanau wineries are very excited to sow seeds for a new project: The Leelanau Winemaker Scholarship. From every ticket sale for the event, $5 will go towards the scholarship fund that will help local students become winemakers and vineyardists.
The Leelanau Wine Trail will be working with the Viticulture Enology Science and Technology Alliance on the scholarship. VESTA is a dynamic, 21st century collaboration between educational, government, and industry institutions across the nation who provides students access to online coursework and hands-on field experiences with area vineyards and wineries.
Tickets for the Spring Sip & Savor are $35. Packages with area lodging partners are also available on our website at http://www.lpwines.com - tickets are limited! Our wine trail events do sell out so please purchase in advance.
Wine & Food Pairings and Hat Contest Prizes
Below is a partial listing of the food & wine pairings along with the hat contests at each winery. The winery prizes are awarded by the staff of each winery, but the Grand Prize is awarded by the vote of all the participants in the Sip & Savor tour.
This year's winner will receive two nights lodging at The Homestead in Glen Arbor during any season of the year (subject to availability) and a pair of tickets to any LPVA Weekend tour or the 2013 Traverse City Wine & Art Festival! We'll also draw one vote at random from all those who voted and that lucky person will receive a pair of tickets to the 2014 Sip & Savor!
Bel Lago will be featuring Chef Hammar's deliciously Gingery Carrot Soup paired with their 2011 Semi-Dry Riesling. Their hat prize category is – as always – Best Use of Cork with a prize of a Basket of Coffees with a Cause from Higher Grounds Coffee.
Black Star Farms will serve Chicken, Chorizo and Cheddar Empanadas with Smoked Tomato Relish paired with your choice of either 2011 Arcturos Riesling or Artisan Red. They are offering a $25 gift certificate for their staff's favorite hat!
Boathouse Vineyards will be serving their 2011 Dry Riesling with a bite size quiche by Sisson's Market of Leland. They will be looking for the Best High Seas Headgear and the winner will get to enjoy a sunset booze cruise with David and the Boathouse Staff!!! Also don't forget to check out their photo booth – they may give out a prize for best picture!
Brengman Brothers will pair Runaway Hen Chardonnay with Prosciutto Wrapped Melon.
Chateau Fontaine presents a Green Chili & Chicken "Mexican Lasagna" with layers of mild green chili enchilada sauce, Mexican cheese blend, and shredded chicken sandwiched between corn tortillas to celebrate Cinco De Mayo! Enjoy with their Best of Show winning 2011 Pinot Blanc. The Best Kentucky Derby Hat will receive a prize.
Chateau de Leelanau is serving Senior Pete's Pulled Pork Tacos with Cilantro Lime Salsa. ¡Olé! The ugliest HAT will be awarded a CDL T-Shirt!
Cherry Republic will serve a 7 Layer Mexican Dip paired with their Sangria. They are seeking the most furry hat and will award a Cherry Republic gift box with wine and assorted cherry products.
Ciccone is still working on their food pairing but their hat prize will be awarded for the most Fabulous Floral hat!
Forty-Five North will present Smoked Salmon on a Crostini with Herbed Chèvre, paired with their award winning dry Riesling. They are looking for the most Divine hat with prize TBD.
Gill's Pier will be serving Chef Hannah's custard-like Savory Bread Pudding with Royce, a lightly oaked Pinot Gris blend rich in flavors of peach, citrus with a toasty vanilla finish. Royce is lean, crisp and a perfect match to Chef's savory blend of seasonal vegetables and locally sourced cheese. Sip & Savor's Best Fashionista will receive a Diversions gift certificate.
Good Harbor will serve a Buffalo Chicken Soup paired with their Harbor Red. They are looking for the best wine-related sombrero with a prize of a 2013 Leland Wine and Food Festival Poster.
Good Neighbor Organic is serving a Tapas Plate: baked wonton filled with shredded pork with choice of sauce:stone ground mustard cream or raspberry jalapeño. Also, skewered grapes with pecan goat cheese and a homemade chocolate covered Twinkie with caramel drizzle and sea salt!! They are looking for the Most Organic Hat.
Laurentide is featuring a Cheddar Cheese Olive Stuffed Morsel from Morsels Espresso + Edibles. The Best Vintage Hat will win a custom Black and White Vineyard Poster Photograph as their prize.
L. Mawby will be pairing their NEW Redd Sparkler and a Spicy Mexican Chocolate Pound Cake with a Chocolate Ganache. They are looking for the Best Redd Hat.
Leelanau Cellars will be serving a 2010 Leelanau Chardonnay with a savory Corn & Crab Chowder. If you have the best nautical-themed hat, you can take home a prize of a print of local Tall Ship Schooners by local artist Charles Murphy.
Longview is featuring their Dry Riesling with a Shrimp Risotto. For their hat prize they will offer a $50 gift certificate to the Cedar Rustic Inn.
Shady Lane Cellars will be serving Beef, Cheese and Green Chile Enchiladas with their 2011 Cabernet Franc. Their prize for the "most blinged out hat" is a $25 gift certificate to Shady Lane Cellars.
Silver Leaf presents a Spicy Mexican Chicken Tortilla Soup paired with their fabulous Fling, a semi-sweet rose. The Best Wine fiesta hat will receive the Wine Nerd game. Honorable Mentions will receive Silver Leaf tasting room wine gift items.
Tandem Ciders will serve crepes with Wild Leeks and Leelanau Raclette & Sweetheart Cider. The staff of Tandem Ciders will award a $25 gift certificate for Frida's Bakery in Suttons Bay for the "Apple of our Eye" – the hat they like best!
Verterra will offer Flautas - Flour tortillas, rolled up with chicken, cheese, black beans, and roasted corn, deep fried, and topped with ribbon of sour cream and a little salsa. They will also have a spiced up salsa as an alternative topping for those who are more adventurous!!! The wine pairing will be their 2011 Pinot Grigio. The "Most Colorful Hat" as judged by the tasting room staff will win two bottles of Verterra wine.
Willow will be serving a Oriental Chicken Salad with their Pinot Gris and they are awarding a Willow T-shirt and gift certificate to the wearer of the best jungle-themed hat.
# # #
The Leelanau Peninsula Vintner's Association is a 501c3. The LPVA was formed in 2000 with a goal to help spread the word about all the wonderful things the Leelanau Peninsula has to offer including a growing number of award-winning wineries, excellent restaurants and a rich agricultural history. Today, it is the largest and strongest of the four organized wine trails in Michigan which promote the state's nearly $790 million grape/wine industry.
--
Leelanau Peninsula Vintners Association
http://lpwines.com/
231-421-1172