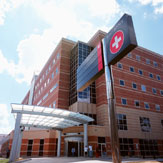 By empowering those on the front lines of patient care to think strategically about how best to address critical health issues, Harris Health has delivered better healthcare to patients and we're building a stronger organization.
Pittsburgh, PA (PRWEB) March 14, 2013
Harris Health System, comprising Lyndon B. Johnson Hospital, Ben Taub Hospital, Quentin Mease Hospital, 16 community health centers, and other specialized healthcare facilities, announces the implementation of MindMatter's Innovation Management software to manage its innovation process.
Harris Health employs over 7,000 professionals and is a leading healthcare organization in the Houston area. Recognizing the power of innovation, Harris Health, has engaged in a comprehensive innovation program to tap the knowledge and expertise of their workforce to take their healthcare delivery system to a new level.
With a rich history of innovation spanning several decades, Harris Health has established a long list of innovations, starting with the creation of the health system-based primary care network nearly 45 years ago. Building on this heritage, Harris Health implemented,Think Innovation, an employee-driven program that encourages employees to identify best practices for quality, patient-centered care.
Mr. George Masi, FACHE, Executive Vice President and Chief Operating Officer, is the executive leader for the innovation initiative and has embraced innovation as the cornerstone to Harris Health's continued success. Mr. Masi stated, "By empowering those on the front lines of patient care to think strategically about how best to address critical health issues and reduce unnecessary complexity in processes, we've brought better healthcare to patients and we're building a stronger organization." He further explains, "Innovation is turning the traditional ways of doing things upside down, and looking at everything differently," and he has worked tirelessly to instill this thinking throughout the entire Harris Health System. He espouses the philosophy that even small ideas, when implemented to improve patient care, processes or the work environment can have a big impact.
Carolyn M. Oddo, PT, MS, FACHE, Vice President for Operations Support, is another key member of the executive leadership team involved with the innovation program. Ms. Oddo has been instrumental in designing and streamlining the innovation process throughout the Harris Health System. She states, "We wanted to challenge staff to identify creative solutions. We did this by building an online forum where employees are empowered to be directly involved in improving patient care in a more efficient and cost-effective manner." She deeply understands the innovation process, and further added, "Innovation involves risk and risk-taking takes courage." Under her guidance, each potential idea is evaluated and reviewed, then routed to innovation project leaders throughout Harris Health. "Each project leader supervises the most promising innovations and shepherds the project, along with the original creator of the idea, through to completion. We're creating accountability and helping insure success."
Both Mr. Masi and Ms. Oddo realized early in their plan to automate the innovation process that they would need to implement software controls and systems to insure that the process would not only be accessible to each person within Harris Health, but also easy to use and manage. After an extensive search, their team selected MindMatters Technologies. Mr. John Gabrick, CEO of MindMatters explained, "We've been building systems to manage the innovation process for several decades, and our systems employ best practices in innovation along with the latest software technologies to enable healthcare facilities to quickly realize benefits. This enabled Harris Health to implement a comprehensive system customized for their process with minimal effort."
Harris Health System focuses on the delivery of primary care, wellness and prevention services to the residents of Harris County, Texas, through its extensive network of 44 inpatient and outpatient facilities. Harris Health is a recipient of the prestigious National Committee for Quality Assurance designation for its patient-centered medical homes. Harris Health is staffed by physician faculty and residents from nationally ranked medical schools, Baylor College of Medicine and The University of Texas Health Science Center at Houston (UTHealth). For more information, visit http://www.harrishealth.org.
MindMatters Technologies is a leading provider of solutions in innovation management and intellectual property management, and has been helping organizations build and manage their processes for several decades.