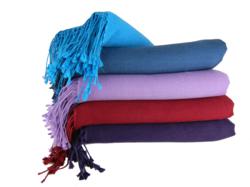 Adding color with pashminas is a perfect way to get the most out of your spring wardrobe
Houston, Texas (PRWEB) March 06, 2013
The Pashmina Store, one of the largest online retailers of 100% pure, Grade A cashmere at value prices, today announced a special discount with the arrival of spring. The "Spring Fever" cashmere savings event makes it easy for fashionistas to update their wardrobes in time for Spring Break by adding beautiful, bright pops of color found in spring 2013's hottest hues. Shoppers can take advantage of the 10% discount on the following spring wraps, along with everything else in the store, by entering "SPRINGFEVER" during checkout.
"Adding color with pashminas is a perfect way to get the most out of your spring wardrobe," said Blair Rhodes, co-owner of The Pashmina Store. "Our selection this year is right on trend with Pantone's Spring 2013 Top Ten Color outlook and our selection is larger than ever."

Serious Sunshine: Energize and enliven the senses in a brightly hued, lightweight Orange Water stole, Pashmina / Silk Wrap or "Ring" style Wrap in lovely Yellow.
Ocean Blues: Renewed tranquility can be found without a trip to the beach next to the softness of a silk/cashmere blend Water Stole in Blue, Moroccan Blue or Midnight Blue.
Green with Envy: Delight in an array of fresh, natural greens that include a soft, lightweight "Ring Style" pashmina wrap in Lime Green, Water stole in Sage Green and Pashmina/Silk Wrap in Light Green.
Wild Flowers: Brighten days with bluebonnet and red poppy bloom-inspired colors that include Water Stoles in Red and Royal Purple.
Natural Neutrals: Balance brightness with beautiful beige or sultry silver grey Water Stoles.
About The Pashmina Store
Since 2001, The Pashmina Store has been proud to offer the finest quality pure pashmina and pashmina/silk blend shawls, wraps, scarves and cashmere blankets. Customers enjoy the entire experience with quality products at exceptional values, free standard shipping in the U.S from Texas, and a satisfaction guarantee.